Yesterday on my way home from the Floating Resto Sleman review, I passed one of the unusual places to eat. Why is it unusual? Because at first glance the yellow banner looks striking with the symbol of a muscular chicken and also the place is very spacious for the size of a grilled chicken restaurant. In addition, they hung grilled chickens on the glass of the kitchen window which invites the curiosity of people who pass in front of the restaurant. I wanted to stop by but my stomach was already full, so the next day I returned to that place. That place is called Ayam Bakar Mas Yogi in Sleman.
Ayam Bakar Mas Yogi, Sleman: Enak & Berotot
When visitors look at the menu, of course, they will think that the "Ayam Bakar Ala Mas Yogi" (Mas Yogi-style Grilled Chicken) menu is the most delicious mainstay menu. But make no mistake! It turns out that this is a diet menu! The difference between ordinary grilled chicken and "Mas Yogi-style" grilled chicken is that the ordinary grilled chicken is seasoned thoroughly with soy sauce and other spices, while in the "Mas Yogi-style," they fillet and grill the chicken breast without seasoning. So, if you are on a diet, this menu is recommended for you. Who wants to eat chicken without spices? This certainly piques the curiosity of visitors. The grill is also different from other restaurants because this place uses a tool like a BBQ smoker.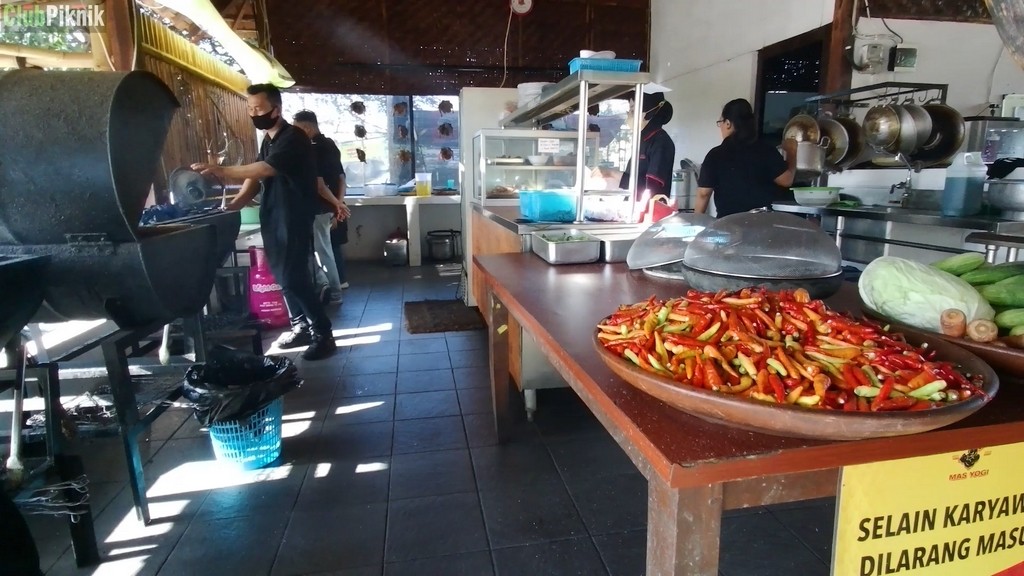 Through our "investigation" it turns out that the owner of Ayam Bakar Mas Yogi is a bodybuilder athlete from Yogyakarta who does business in the culinary field. His culinary business is not only grilled chicken, but there are also several other culinary businesses that he currently manages such as Martabak Koh Jo, Giga Cake, and Oppa Chick Jogja. These businesses all have unique logos, their trademark, which is a shredded chef. No wonder in this restaurant they also serve brown rice besides a plain grilled breast fillet, which is certainly very suitable for dieting and maybe you will be muscular like Mas Yogi.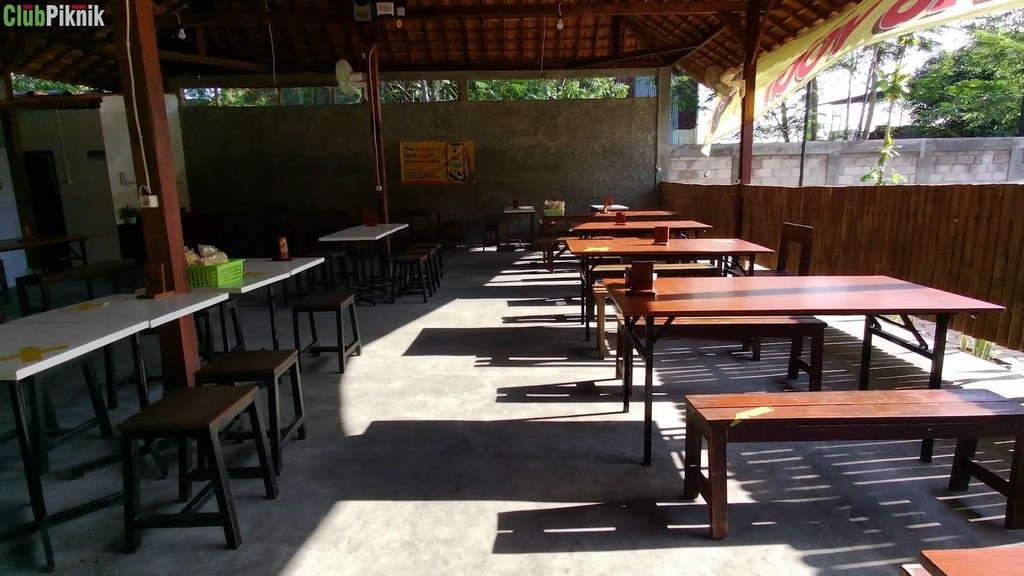 The main dish of this restaurant is the grilled kampong (free-range) chicken. We actually wanted to order "Mas Yogi"-style grilled chicken, but when we found out the food tasted bland, we then switched sides by ordering grilled kampong chicken. After all, we also don't want to be buffy 😀 The menu provided is not only chicken, but there are also tilapia, grilled duck, tilapia peppers, puffed peppers, and many more. There are also various snacks such as tahu walik (tofu filled with starch and then fried), mendoan (fried tempeh), bakwan (corn fritter), cilok (ball-shaped dumpling made from starch), etc. To accompany the main dish, the restaurant also provides various vegetables such as urap (salad dish of steamed vegetables), stir-fried water spinach, and stir-fried papaya leaves. There are two types of rice, that is white rice and brown rice, for rice and iced tea, you can refill it without limit! So you don't have to worry about how much you eat. The price of the food here is quite affordable, starting from IDR 15,000 for grilled chicken, IDR 21,000 for grilled kampong chicken, and IDR 80,000 for grilled whole kampong chicken. Pretty cheap right!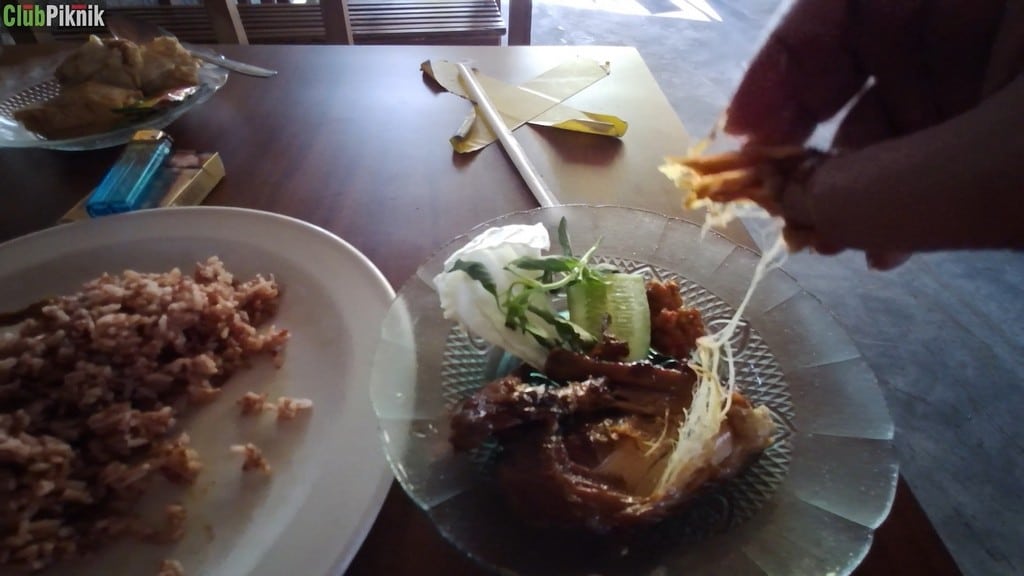 Now I will review the taste. The taste of the grilled chicken is delicious, and the spices are absorbed into the bones even though we ordered kampong (free-range) chicken, which is usually dry and tough in texture, but this chicken is tender and moist. But unfortunately, when we were enjoying our food, a lot of flies came over to us. This is quite disturbing because we feel uncomfortable while eating. So in conclusion, Ayam Bakar Mas Yogi is a restaurant with a special menu of grilled kampong chicken with a sweet taste that is absorbed into the chicken bones, tender, and moist, which is equivalent (or even tastier) to well-known grilled chicken restaurants in the Yogyakarta area. It also has a strong "healthy" feel to it with the presence of brown rice, various vegetables, and grilled chicken fillet without seasoning, which is a healthy menu (especially if you want to be muscular, hahaha). But the drawback is quite a lot of flies that annoy us. In total, we paid IDR 67,000 with a menu of 2 grilled free-range chickens, 5 pcs tahu walik, 2 white rice, and 3 iced tea. Overall, this restaurant is recommended in the Sleman area.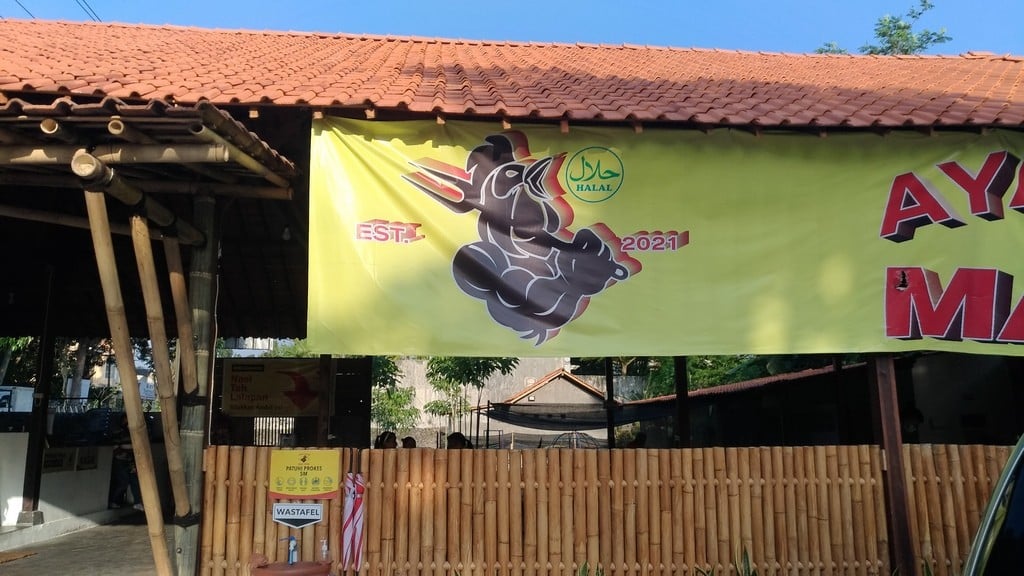 Mas Yogi's Grilled Chicken Restaurant is located at Jalan Kebon Agung, Gandekan Tlogoadi, Mlati District, Sleman Regency, Yogyakarta Special Region. If you have trouble finding the place, just search on google maps, guaranteed you will find it because it is easy to find. The parking lot is spacious and the dining area is also comfortable. There is also a lesehan (sit on floor) area and a playground for children, so children can also play while they wait for food to be ready.