Hi guys, stay here and don't get tired reading since I still have many stories to write. This time I want to tell you about my experience of eating sate klatak (kind of goat meat satay) which was viral in its time. In the middle of the night, hungry, I immediately remember the klatak satay that had gone viral years ago. Actually, I've been there once about 15 years ago. Even though the place is far from my house, I still want to go there because I wanted to feel the experience of eating klatak satay in the real traditional market. The name of the food stall is Sate Klatak Pak Bari Pasar Wonokromo (translated as Klatak Satay Mr. Bari Wonokromo Market). Has anyone been here before? Indeed, this Wonokromo area sells a lot of sate klatak, but the two famous ones are Mr. Bari's and Mr. Pong's satay restaurant.
Nostalgia di Sate Klatak Pak Bari Pasar Wonokromo, Yogyakarta
When I arrived at this shop, I was surprised because a lot has changed from 15 years ago. The place is still in the Wonokromo Market area, but beyond our expectations, this place has become big and crowded. In the morning, people use this place as a traditional market which is still active today. At night, Mr. Bari and others (previously) sell sate klatak. The satay stall's address is at Wonokromo Market, Jalan Imogiri Timur no 5. Mr. Bari is the 3rd generation successor to the satay business. In the beginning, it was Mr. Bari's grandparents who started the sate klatak business, and then continued by Mr. Bari's parents. When he was 15 years old, Mr. Bari has started helping his parents sell klatak satay, and now he's the owner.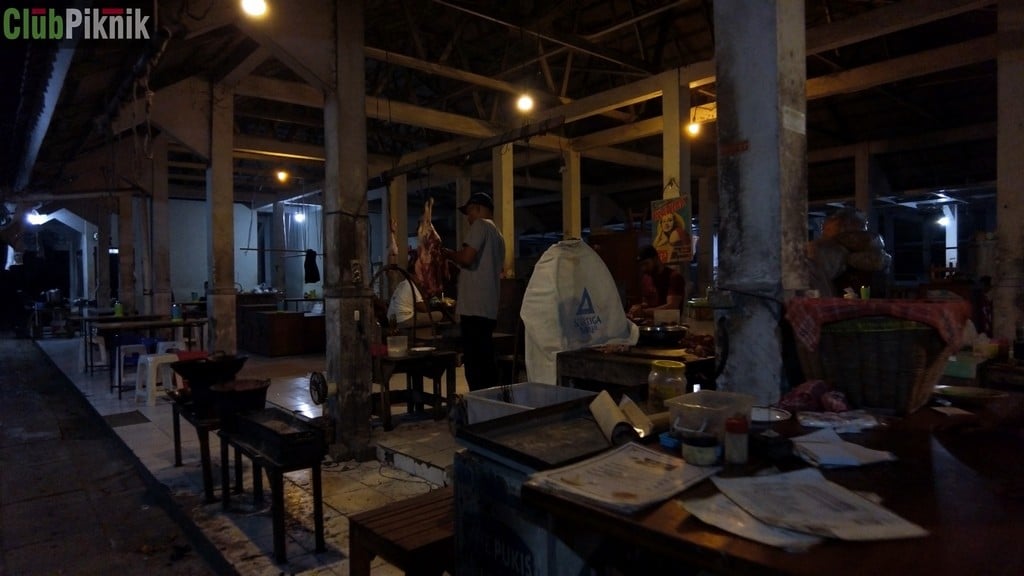 A few years ago, Sate Klatak Pak Bari went viral because this location was used as a shooting location for AADC2 (a popular teen movie in Indonesia), where Rangga invited Cinta to have dinner. After the movie, Mr. Bari's sate klatak is rarely quiet, and sometimes there's even a long waiting list. Some are even willing to wait a long time to taste the delicious sate klatak. But when I read reviews from Google, quite a lot of customers complained about cleanliness, service, or taste. There were even those who came from outside the city to Yogyakarta to taste the satay, but what they got was below their expectations. So it created a deep sense of disappointment. Because of that, a curiosity arose as to whether the taste and experience of eating there were much different from before Pak Bari became famous.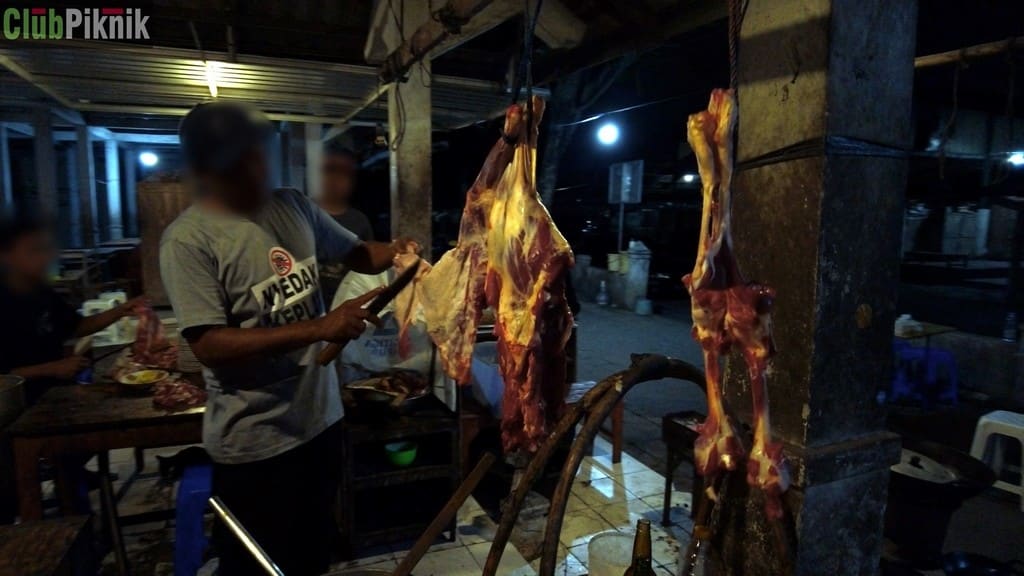 For the menu, there are several choices, i.e., klatak satay, seasoned satay, fried satay, meat tongseng (sweet tasted stew), head tongseng, head kicik (like a stew but drier), kicik tengkleng (bone), meat kicik, fried rice, and organ gulai (Indonesian curry). So I ordered klatak satay, seasoned satay, and tongseng with two servings of rice. There are two skewers for one serving of sate klatak. For those who don't know what sate klatak is, sate klatak is the same as goat satay in general, but the difference is in the skewer and the seasoning. Usually, goat satay uses bamboo sticks, while klatak satay uses skewers from sharpened bicycle tire bars. The thin iron bars aim to make the satays get the perfect level of doneness. Then it is only seasoned with salt and then burned. It is called sate klatak because when the meat is burned and then given salt, it produces crisp explosion sounds and the onomatopoeia for locals is "klatak", that's why it's called sate klatak.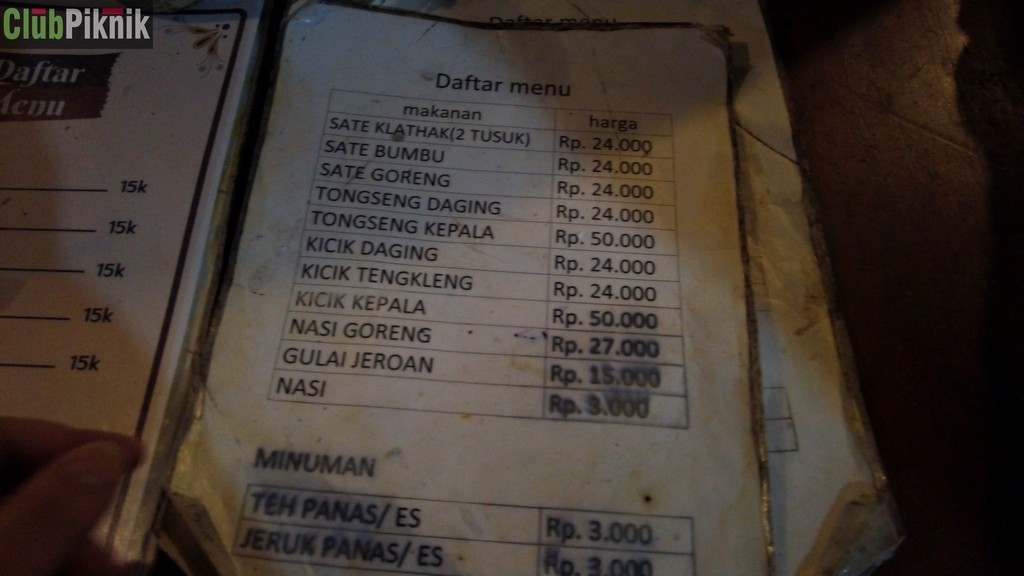 When I went there years ago, the seller grilled the satay very carefully with a low fire and repeatedly checked the level of meat doneness. To find the desired level of doneness, the seller uses the "touching the meat" technique. At that time, as I recall, the meat served was cooked just right, not overcooked to the point of being well-done, so it was very tender. However, yesterday when I came there, the seller was okay with burning the satay with flaming charcoal and the hot charcoal even stuck to the meat. Maybe this is what makes Sate Klatak Pak Bari continue to get bad Google ratings lately. Oh, one more story I still remember when I first went there is the story of the sissy goat. So there are no special requirements for goats for sate klatak ingredients, other than don't use sissy goat. The seller at that time believed that the sissy goat could make the satay not sell well. Because this story is so absurd, I still remember it even for years, hahaha.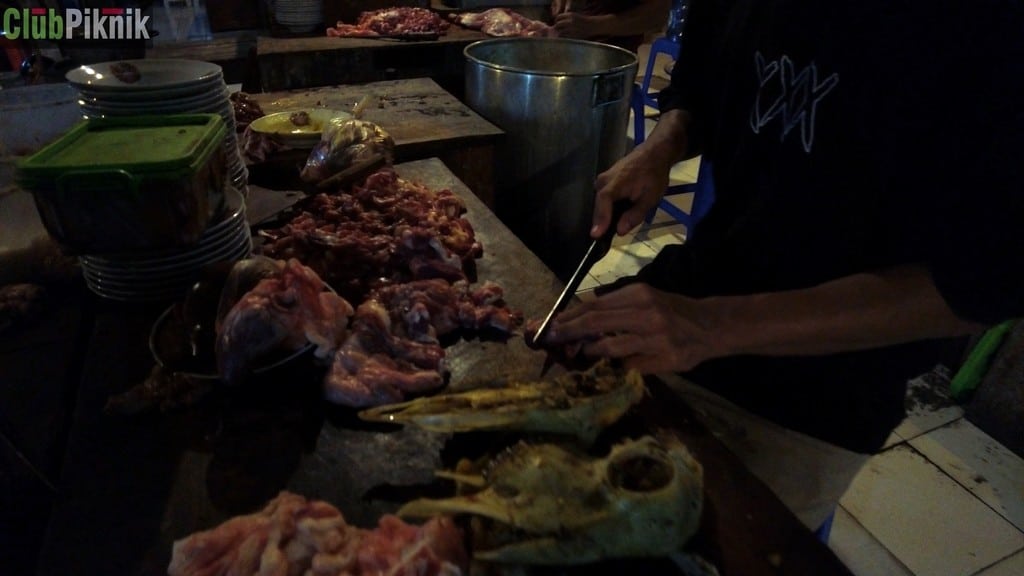 The cooked satay was then served with gulai sauce. I think the klatak satay was too salty and a little tough, but luckily the gulai sauce was not too heavy. So, the salty taste of the goat meat balanced well with the sauce. The second menu is spiced satay. Not much different from sate klatak, this spiced satay was made from goat meat and seasoned with soy sauce and other spices, giving it a slightly sweet, rich flavor, but still predominantly salty. Even better, the meat was not pierced, so we could directly eat it. But unfortunately, the portion was too little. The third menu is tongseng. Mr. Bari's tongseng was not much different from the other tongsengs. The broth was thick with the aroma of various spices. Upon tasting, the sweet, salty, and spicy were blended, and the meat was pretty fatty. Although the tongseng sauce was thick with spices to mask the strong gamey taste, ​​unfortunately, it still left the gamey taste. Because I prefer sweet dishes, this klatak satay and other dishes only left a dominantly salty taste.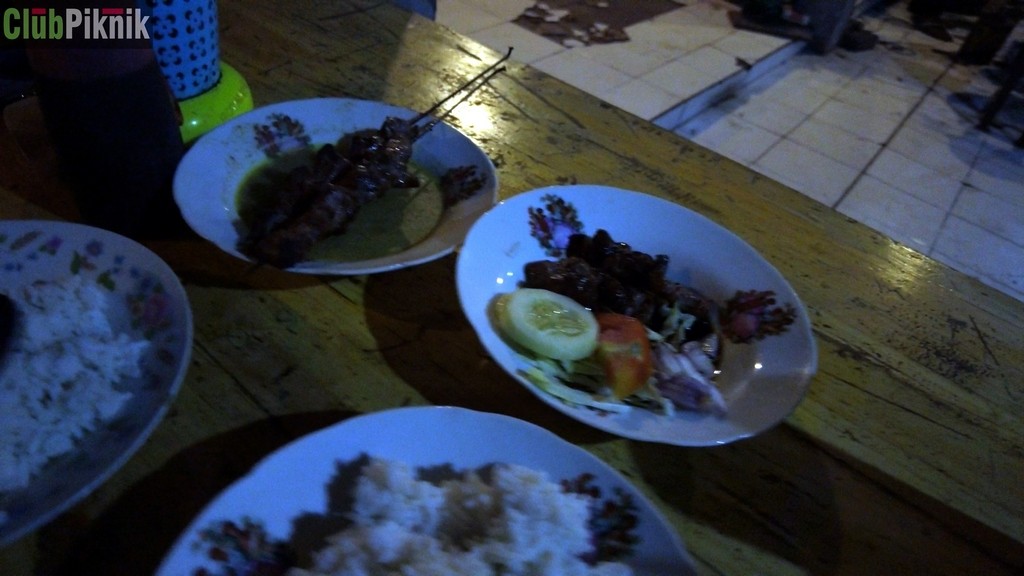 So, in conclusion, you can visit Sate Klatak Pak Bari for AADC nostalgia, but don't expect to feel a special satay taste because the quality of the food has decreased, and there is no difference, maybe even inferior to other klatak satay in the surrounding area. We spent 84 thousand rupiahs for a serving of klatak satay, seasoned satay, tongseng, two servings of rice, and drinks. Yes, maybe it's cheaper than Mr. Pong's satay, which is more expensive and has a restaurant tax, but it's still more worth it unless you are tight on budget. Well, hopefully, Mr. Bari listens to our complaints and the service will be better. For those who want to come to Sate Klatak Pak Bari, this stall is open from 7.00 pm to 11.00 pm.