Hi guys, how is your holiday? Still awesome right? I want to tell you about my holiday yesterday, which was pretty impressive. I got a recommendation from my favorite tour operator in Jogja about beach tourism on the south coast of Yogyakarta. I like beaches, so yesterday's advice was quite handy for me. If my last post were about a review of Nglambor Beach and Siung Beach which located in Gunung Kidul area, now I would like to provide a review of the natural charm of Goa Cemara (literally translated as beach-pine cave) Beach. This beach is located in Bantul Regency precisely in Patihan Hamlet, Gadingsari Village, Sanden District. Why do people call it as Goa Cemara Beach? Because here many Casuarina equisetifolia trees grow on the beach and look like a cave entrance from a distance, so you could imagine how calm this beach is. Goa Cemara Beach presents extraordinary natural beauty from a soft stretch of black sand, breezy breeze, and waves that are guaranteed to put a smile for those of you who were broken-hearted. Since I was there yesterday on holiday season, this beach was crowded with many tourists who spent vacation time with their families.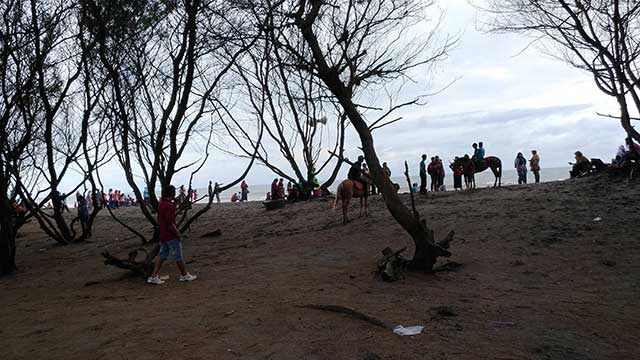 Although many tourists visited this beach, I still enjoyed the feel of the wind that gently touched my body. Because the wind was so strong, many locals then offered kite merchandises for tourists who were enjoying this outdoor activity, while waiting for their family members who were playing with water on the beach. When I looked up at the sky, there were kites with a beautiful yellow butterfly model dancing on the clouds. This atmosphere is very suitable for us to enjoy so that the negative aura in our body disappear. Also, some locals spent time trying to catch fish through fishing. They were patiently waited for the fish to land on their hooks while having a good chat with each other. Moreover, locals also use this beach for turtle breeding, and therefore if you are lucky, you will see thousands of turtles waiting to start its new life in the sea.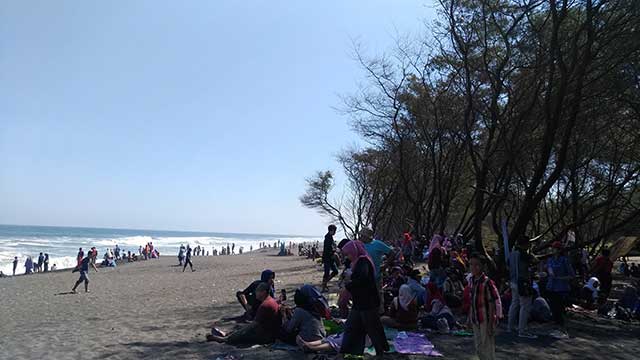 This beach has a diverse variety of facilities, there are hammock rental services to enjoy the open fresh air on the beach, or you can use it to take photos. Hammock rental cost was around 20,000-30,000 rupiahs. In addition to hammocks, there is an ATV arena for those of you who want to explore the surrounding area of the beach. The rental price was quite affordable, only 40,000-60,000 rupiahs. After that, there are several swimming pools for children. No need to worry about the crowded pool because there are five swimming pools on this beach. Then, there are many bathrooms to clean your body after enjoying the freshness of Goa Cemara Beach. Also, many snacks/street foods are present in the arena include cilok, siomay, sempol, young coconut ice, etc. If you are not satisfied with these snacks, there are several food stalls ready to serve both seafood and traditional food. There are also gazebos for outbound activities and don't forget there is also a prayer room. Moreover, on this beach sometimes there are also art shows that would be an exciting spectacle!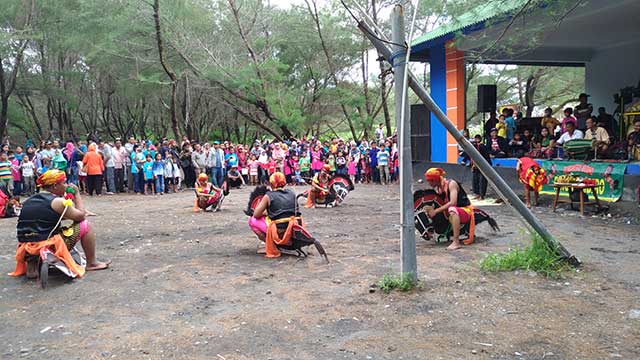 For you guys who are on a budget trip, you don't need to worry. The entrance ticket to Goa Cemara Beach only cost 10,000 rupiahs per person. With 10,000 rupiahs we can travel to five beaches, including Samas Beach, Pandansari Beach, Parangtritis Beach, Depok Beach, and Goa Cemara Beach. Cheap enough, right? On the way to the beach, you will also find many beautiful flower gardens guaranteed to coddle your eyes, in that place, it is perfect for those of you who are an Instagram addict. The entry fee is quite cheap, only 5,000 rupiahs. Last but not least, motorbike parking will only cost you 2,000 rupiah while the car is 5,000 rupiahs. Surely, you will get a lot more than you spend at these attractions.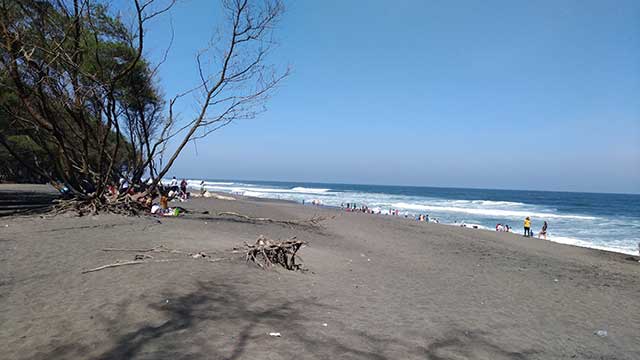 This beach also has easy and comfortable access that won't make you have motion sickness. The journey from Yogyakarta to Goa Cemara Beach only takes about 45-60 minutes, which is much close than Gunung Kidul beaches. Perfect right? Yeah, but still, you will need a proper escort if you want to travel to this country for the first time. Well, for those of you who don't want to bother arranging a holiday, you can use my preferred Yogyakarta tour operator, guaranteed you will get an unforgettable experience because you will be accompanied by a tour guide who is an expert in this field. In this area, there are also many comfortable inns, one of which is the famous Queen of the South Beach Resort.