Hi all, we are back again! Yesterday, seeing that the weather was sunny, we took the time to refresh our brains to go to a place that offers a view of natural nuances. When we were on the road, we were surrounded by rice fields that were ready to be harvested. The distance from the center of Yogyakarta to the place we visited was about 22 km. The place we went to was in the Kulon Progo, more precisely in the Menoreh Mountains area, namely Pronosutan View in Kembang Village, Nanggulan District.
Healing di Pronosutan View, Nanggulan | Mahaloka Paradise | Iwak Kalen Banyu Bening
Menoreh Mountains is known as a tourist spot with a beautiful panorama, it is said that in history, Menoreh Mountains was the defense base of Prince Diponegoro and his men in the Javanese war against the Dutch East Indies. In the war, Prince Diponegoro's son, Bagus Singlon, was to lead the war. They fought in the Kulon Progo area from the south coast to Bagelan. Hmm, that's quite far.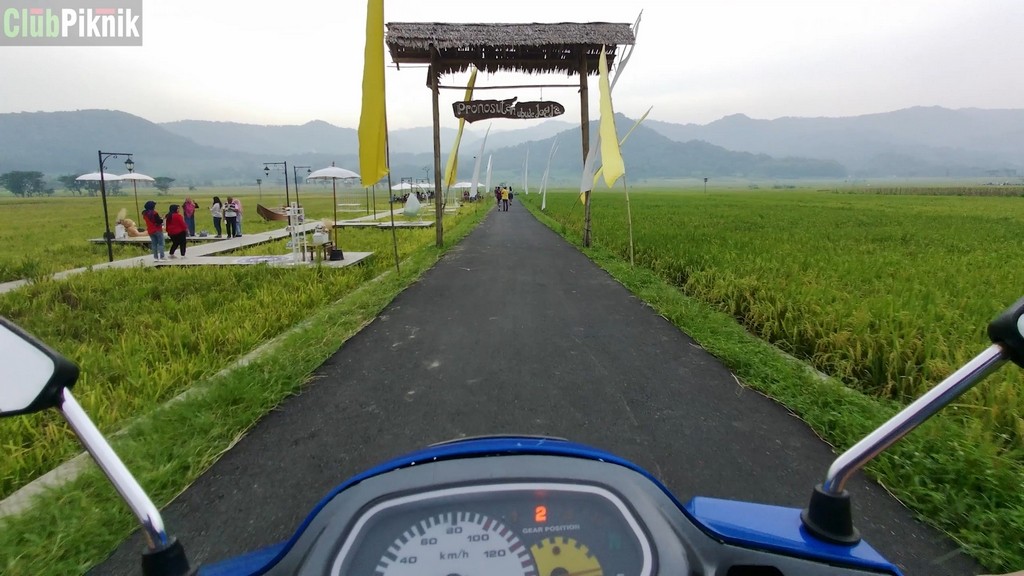 Pronosutan View is famous for its vast expanse of rice fields. Even tourists often call this area the Ubud of Yogyakarta. Pronosutan's distance from Yogyakarta is about 1 hour. It's quite far, yes, but when you are at the location, all tiredness during the trip is paid off with an exquisite view. Based on our investigation, it turns out that Kulon Progo has a superior rice variety, which is equivalent to the quality of Rajalele, Mentik Wangi, and Mentik Susu. The name of the variety is Menor rice, which stands for Melati Menoreh. Melati (translated as Jasmine) is known for its fragrant aroma, while Menoreh is the name of the place. The advantages of Menor rice are that it has high productivity, is fluffier, tastes good, and smells good. In fact, they have registered this variety at the Center for the Assessment of Food Technology (abbreviated as BPTP). Until now, there has been a team recommendation to release the Menor variety into a national superior variety and now it is just a matter of waiting for the Ministerial Decree. No wonder the Nanggulan area is dominated by fertile rice fields because several rivers surround this place, and the largest river is the Progo River. Besides being known as a superior rice producer, Nanggulan is also known for its superior coffee, namely Menoreh Coffee. That's why in Nanggulan there are many popular cafes because they want to introduce local products with quality that is competing with well-known products.
During our visit this time, we stopped at Mahaloka Paradise and Iwak Kalen Banyu Bening (translated as clear water river fish). We chose Mahaloka Paradise randomly because we saw the place was Instagram-able, so we stopped by at that location. Mahaloka Paradise offers an outdoor café concept with views of the rice fields and Menoreh mountains. At the Mahaloka Paradise entrance, we first bought an entrance ticket for IDR 20,000/person. The ticket can be exchanged for drinks and snacks that were already available on the ticket exchange rack. The ticket price was quite expensive though. When we went inside the cafe, we saw ornaments that were suitable for spending our afternoon there. Many cool places were available to take pictures. The right time to come to this cafe is in the morning and evening because during the day, this place is hot because of the scorching sun. At Mahaloka Paradise, you can rent electric scooters for visitors who want to enjoy the rural atmosphere at a rate of IDR 15,000/20 minutes, 25,000/30 minutes, and 40,000/60 minutes. This Mahaloka is located at Pronosutan, Kembang Village, Nanggulan District. Mahaloka Paradise is open from 07.00 AM - 07.00 PM. We recommend you to come not on weekends because this place is a famous tourist destination that will be too crowded.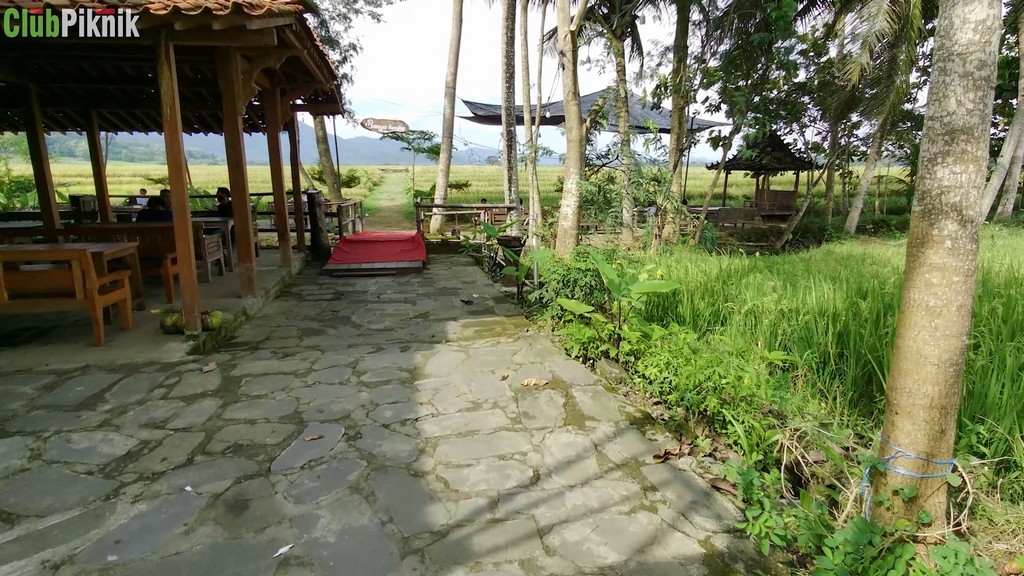 Satisfied with snacks and drinks while enjoying the cool scenery, we wanted to eat at Iwak Kalen Banyu Bening. In terms of the name alone, it's obvious that this place provides fish-based dishes and typical traditional dishes. Not too far from Mahaloka Paradise, Iwak Kalen Banyu Bening is located at Pamonosutan Kenteng, Kembang Village, Nanggulan District. In the restaurant area, there was a small river whose water current was quite strong. Probably, the restaurant name is inspired by this small river. There was no need for music to accompany visitors to eat, just the gusts of wind and the gentle gurgling of water had made us fall for this location. There were two stalls in the restaurant's location. The one in front served grilled fish and chicken dishes, while the one in the back served classic dishes such as soto (traditional soup) and pecel (traditional salad with peanut sauce dressing). For drinks, there were young coconut and ice kopyor (coconut shake). When we came to the restaurant, we ordered mangut beong (local freshwater fish cooked in coconut milk and spices), shrimp satay, eggplant balado (spicy spice mixture), grilled mendoan, and crispy mushrooms. For drinks, we ordered one young coconut and mineral water. With a breezy wind and a view of the expanse of rice fields that had turned yellow, it felt like drinking a young coconut was perfect to add freshness and deserved to accompany our lunch. Anyway, about beong fish, this beong fish looks like a regular catfish but the meat is thicker and the texture is soft. Regarding nutrition, this fish contains a lot of protein. This beong fish is native to the Progo River, so it is not surprising that most visitors from outside the city want to eat beong fish, because the availability of this fish is running low, so the price is also quite expensive.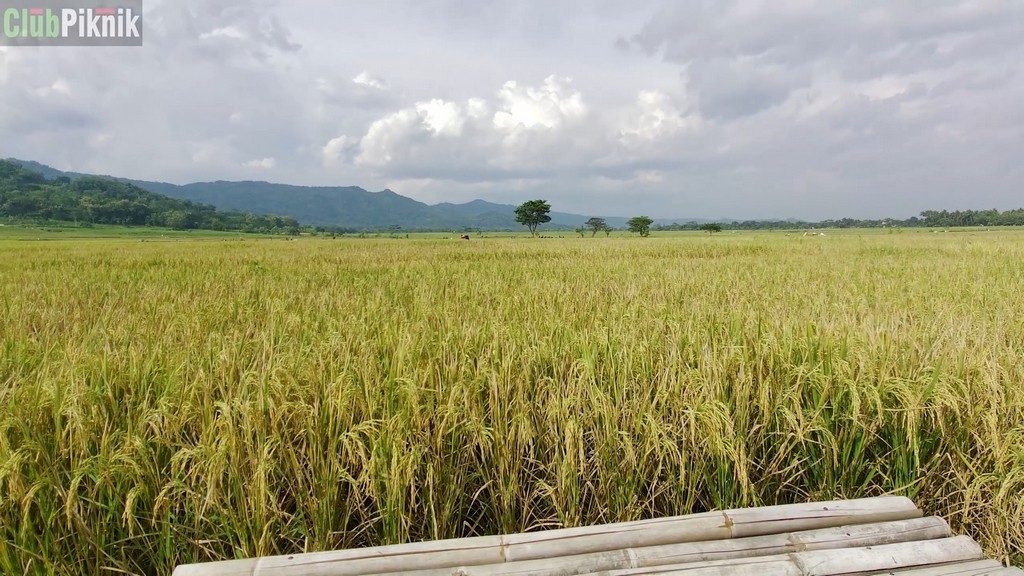 Now is the time to review the taste of the food. Overall, all the food that we ordered did not disappoint us. The mangut beong, shrimp satay, and eggplant balado were all tasted great. The combination of savory, spicy, and sweet flavors is just right. But the drawback is that the serving time was too long even though when we arrived, the restaurant was not too crowded. But after we ate the food, our disappointment was gone with delicious and fresh food. All the menus we ordered only cost IDR 84,000. Not too expensive, right? With a wonderful taste, views, and a breezy breeze, that price is worth it.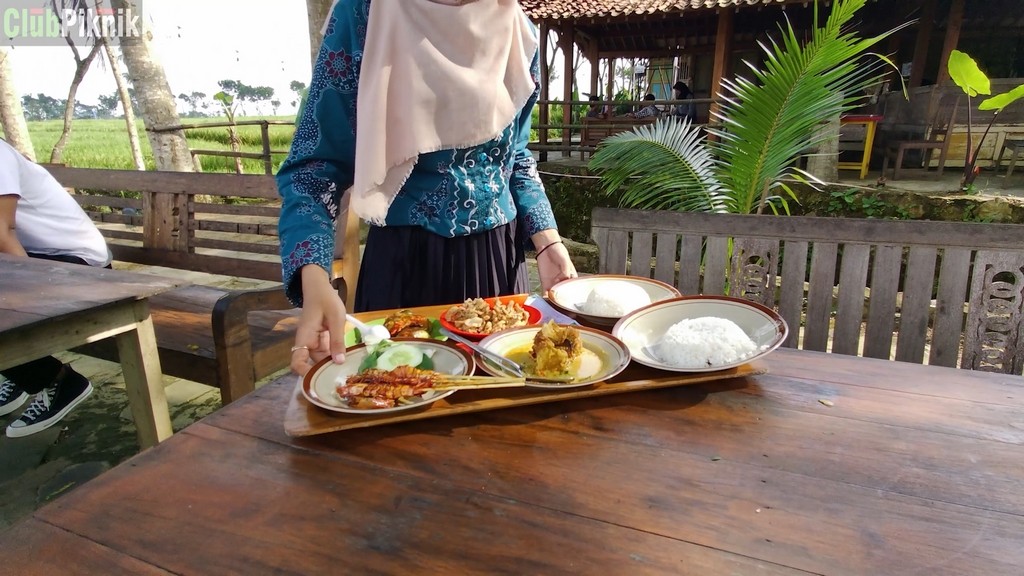 Our entire trip to Nanggulan starting from Mahaloka Paradise and ending to Iwak Kalen Banyu Bening everything was paid off with the beauty of the Menoreh Mountains, expanse view of rice fields, and the breeze and delicious food, made us want to visit other destinations in this area.