Hello everyone, this time I want to review one place to eat in the Bantul area, precisely at Jalan Parangtritis No. 217, Glondong, Panggungharjo, Sewon District, Bantul. This place is Waroeng Pohon Omah Sawah. The first impression of seeing this restaurant from the outside is that it looks like an ordinary old building. Maybe if there were no cars parked outside, I wouldn't know this was our destination. But upon entering the building, it is 180 degrees different from the outside. We were welcomed to a leafy place, greeted by many trees and a vintage concept dominated by limestone and ornaments that were unique, making us drift into a calm and comfortable atmosphere. But unfortunately, there are some spots where the place is like a slum and dirty, one of which is in the fishpond area. Maybe because this place is rarely passed by visitors, its cleanliness becomes neglected.
Waroeng Pohon Omah Sawah, Bantul: Ayam Ingkungnya Enak!
Before I talk about the food and stuff, I want to talk about the very first thing that irritates us. When we went inside this place, we were like a lost child because there were no servers covering the entrance. You know, it's the first time we've come here, so it's only natural if we were confused. We didn't know how to order food, where the menu, how to book a place, and so on. Coincidentally, we arrived on Sunday, so the restaurant was quite crowded, and many empty places had been reserved, which made us unable to choose a comfortable place according to our liking. Luckily, we got an empty seat, but not that shady and not clean. Since only this seat was available, we couldn't move anymore. It's a risk to come here on a holiday, you know, you can't get the best seat.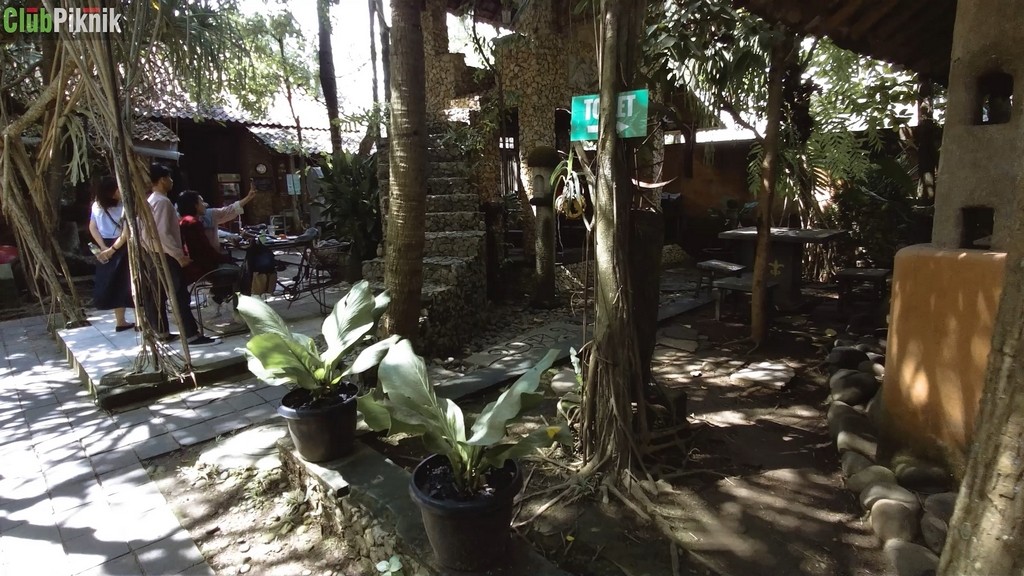 Formerly, this Waroeng Pohon was a plot of rice field that was converted into a residence and a place of handicraft products business such as tables, cupboards, terrazzo chairs, limestone, abstract sculptures, fountains, and so on. The yard is also planted with leafy local trees. After that, it wasn't long before the owner came up with an idea to create a restaurant with the concept of a backyard decorated with trees and ornaments, and thus Waroeng Pohon Omah Sawah was established.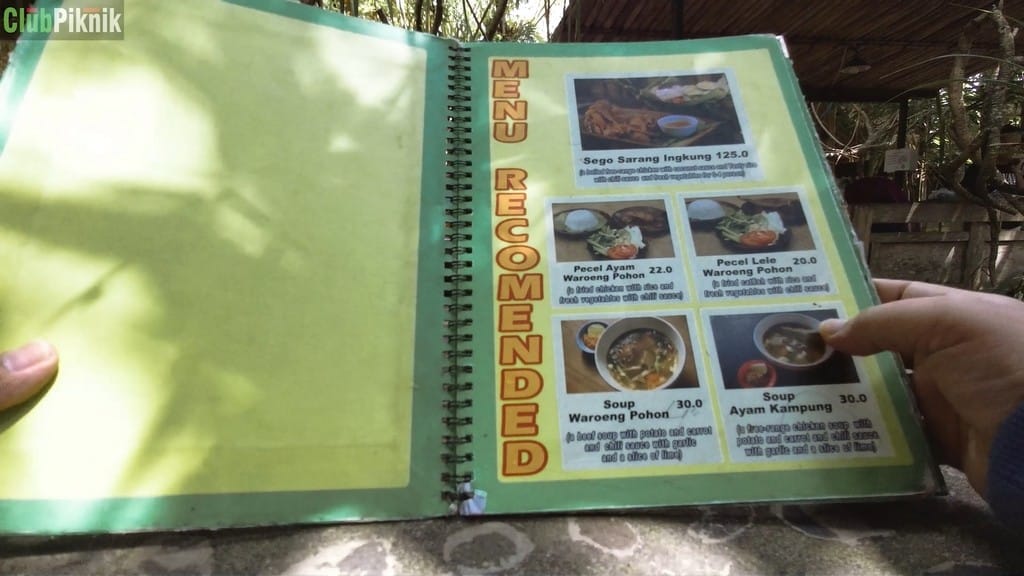 The mainstay menu here is sego sarang ingkung or translated as ingkung ayam with rice. Ingkung Ayam is a traditional chicken dish that is a part of tumpeng which is a 5-15 century-old dish. Aside from the ingkung, there is also Waroeng Pohon soup (beef soup), kampong (free-range) chicken soup, Waroeng Pohon pecel lele (deep-fried catfish dish), and many other menus. Waroeng Pohon serves special Indonesian food, which is rich in spices and has a strong taste. This time we ordered ingkung potong (only a slice, not the whole ingkung) package, roasted kampong chicken, fried mushrooms, iced tea, and orange juice. We will review one by one for the food, starting from the ingkung potong package. It is a piece of chicken thigh and drumstick, lalapan (cucumber and cabbage salad), nasi uduk (steamed rice cooked in the coconut milk), a combination of garlic chili sauce and ground peanut, and a small bowl of chicken broth with a savory taste that makes this dish very special. No wonder this food is the best in this restaurant because it is a fantastic mix of kampong chicken with chicken broth. The broth soaked the chicken meat, which makes the taste blend so wonderfully in the mouth. Coupled with spicy garlic sauce and ground peanut which is a bit sweet, making the complex taste of sweet, savory, and spicy melt well in the mouth.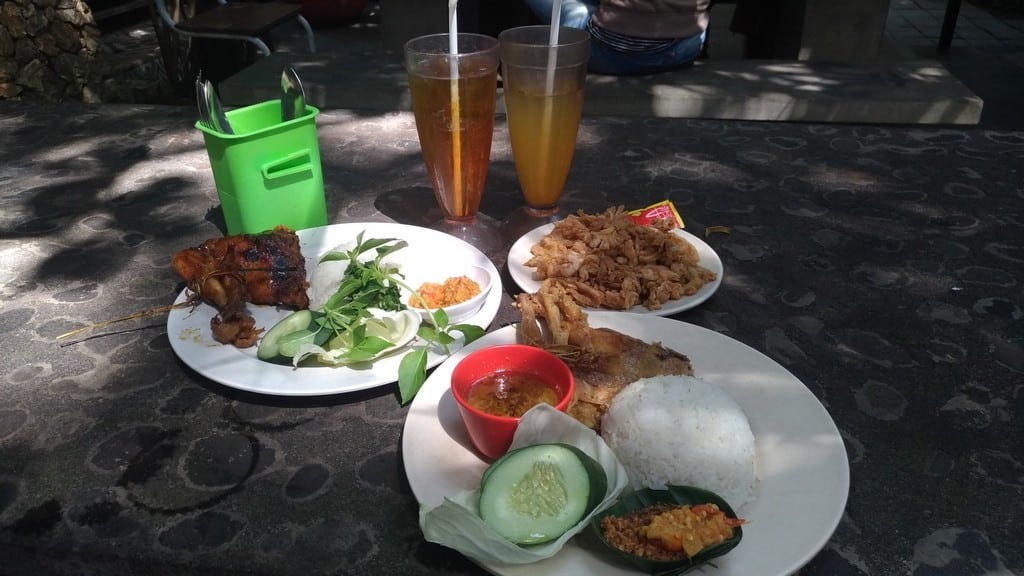 Meanwhile, the roasted kampong chicken is not served in a package, so we had to order a plate of white rice and chili sauce for this roasted kampong chicken separately. This roasted kampong chicken tastes sweet and spicy, but the seasoning wasn't deeply penetrated the chicken meat. It's less exciting to eat compared to the Ingkung but still delicious. The fried mushrooms were deep-fried, making it crunchy. If the food is always like this, it's no wonder the restaurant is always busy, and many make reservations in advance because of the unquestionable taste and the quite affordable price. We ordered that many dishes for only IDR 86,000. This Waroeng Pohon Omah Sawah is open every day from 10.00 AM to 06.00 PM, last order at 05.30 PM.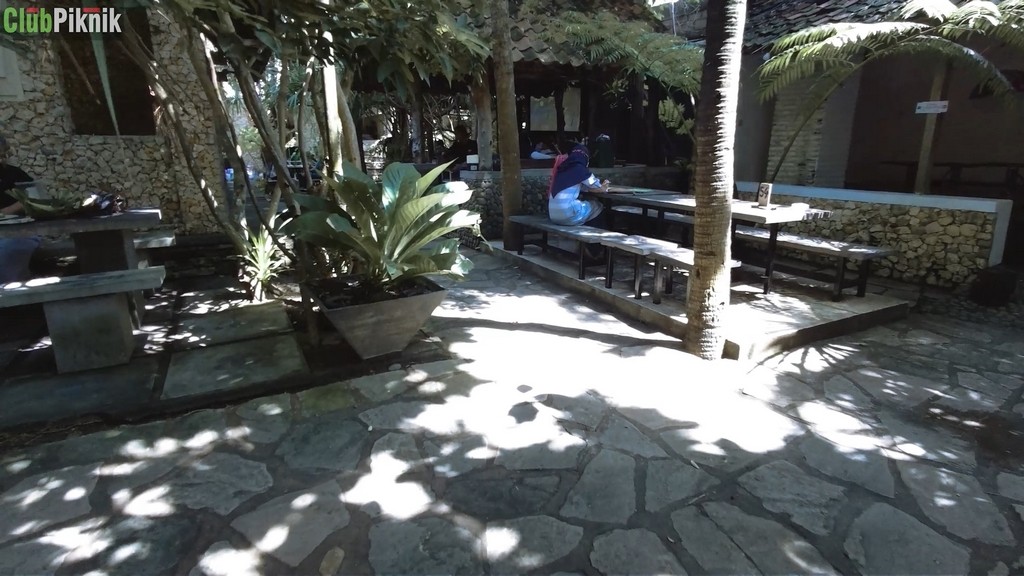 When we were about to go home, there was a minor disappointment again regarding the parking service, because we, who only used a motorbike, were ignored by the parking attendant. He only served car drivers, but he still asked for a parking fee, which was the same price as the car parking fee. Hopefully, they will fix this problem! Nevertheless, in our opinion, the overall experience of this restaurant is still worth it for you to visit. Even though the service is not excellent, they can serve the dishes quickly, and the taste is fantastic. Moreover, it comes at a fairly affordable price. Hence, all the pros neutralize all the cons in this place.