Some time ago I received news that there is a restaurant that is relatively cheap, but the menu and the taste are really amazing. Tokopakdio! Yups, don't call it wrong. At first glance, the name is like the famous online marketplace, but this is a restaurant that serves western food at relatively affordable prices. The food menu at Tokopakdio is very mouth-watering, so it is guaranteed that you will go crazy if you stop by here. This restaurant is located at Nogorojo No. 9 A, Ambarukmo, Caturtunggal, Depok sub-district, Sleman Regency, Yogyakarta. The place is pretty hidden next to Studio Gilang Ramadan, but this Tokopakdio restaurant is always busy! Evidently, when I stopped by there, there were already several tables occupied by visitors.
Tokopakdio Yogyakarta: Restoran Mungil yang Enak dengan Harga Terjangkau
Tokopakdio Jogja serves western food with a proper and authentic taste. In fact, it can be compared to western-style food in starred restaurants. Because it is said that the chef there is a former chef from one of the five-star hotels in Yogyakarta, there is no doubt about the delicious taste. Even though it tastes good, the price is still affordable, so you don't have to worry about your wallet, it's still affordable for students. It is said that Tokopakdio was established to meet the demand of surrounding students so that they can eat delicious food but at an affordable price.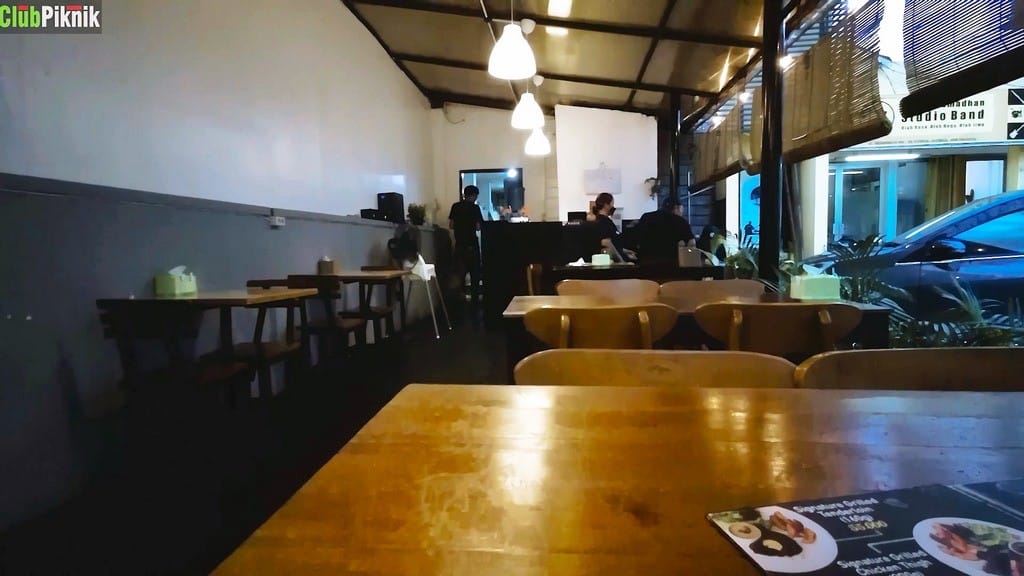 The menu setting at Tokopakdio is well organized, not too many, and it's easy to find the signature menu, aka the mainstay menu. The menus of this shop include signature grilled tenderloin, signature grilled chicken thigh, crispy chicken steak, crispy beef steak, fish and chips, chicken mix salad, all kinds of spaghetti such as spaghetti carbonara, alfredo, dipolo, stroganoff, and bolognese. For snacks, there are onion rings, french fries, potato wedges, and crispy mushrooms. For those of you who like Indonesian food, there is also honey sauce chicken, black pepper beef, chili salt chicken, and fried rice. Also, Indonesian cuisine is served with rice, just like the picture. So you don't have to order a plate of white rice.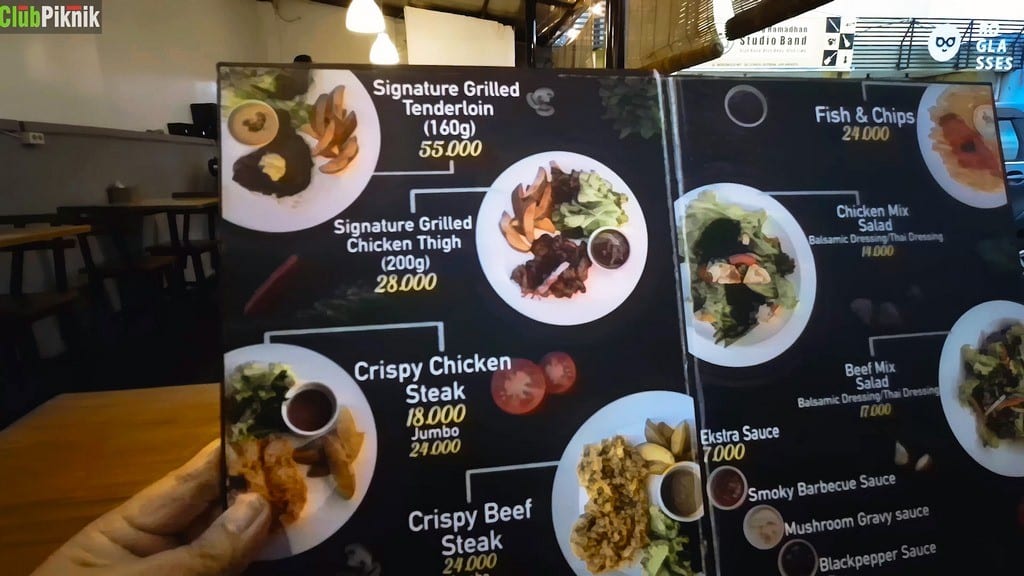 How about the price? It must be expensive, right? Because usually, the steak menu is expensive. But, you're wrong. As I wrote earlier, this restaurant is quite affordable. For example, the signature grilled tenderloin costs only IDR 55,000, and you will get good quality beef, while the signature grilled chicken thigh is only IDR 28.000, cheap right! The other menus are also priced at the same price point. For example, spaghetti is priced at only around IDR 20,000. By the way, if you want to go to Tokopakdio, don't do it on Friday, because that day they are closed. And if you are too lazy to go for a dine-in, Tokopakdio is available for delivery on Grabfood and Gofood.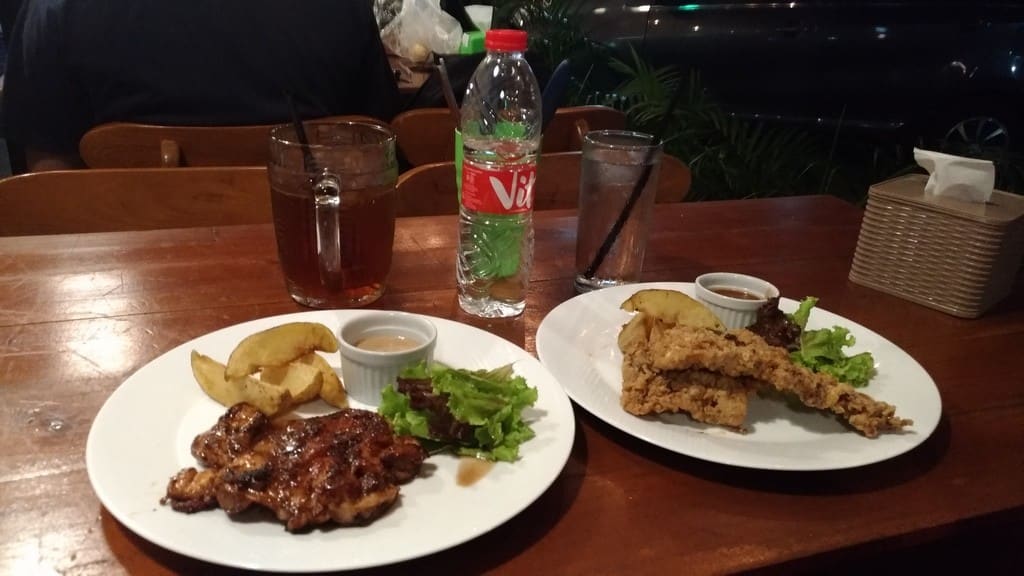 When we came to Tokopakdio we ordered the signature grilled chicken and jumbo crispy beef steak, accompanied with jumbo iced tea and mineral water. Before the food arrives, they provide the knife and fork in a glass container filled with hot water. This is so that the knife and fork are sterile from germs. When the food arrived, I immediately ate it, and it was really delicious. Okay, I want to review one by one, starting with the signature grilled chicken thigh. The chicken meat is juicy, tender, and the tasty taste blends perfectly in my mouth, all of that coupled with the creamy and savory mushroom gravy sauce that makes you can't stop eating. They also served this meal with one potato cut into four parts and lettuce as a vegetable. By the way, the lettuce has been added with lemon juice, so it adds acidity, makes it taste fresh, and removes the gamey aroma from the chicken meat.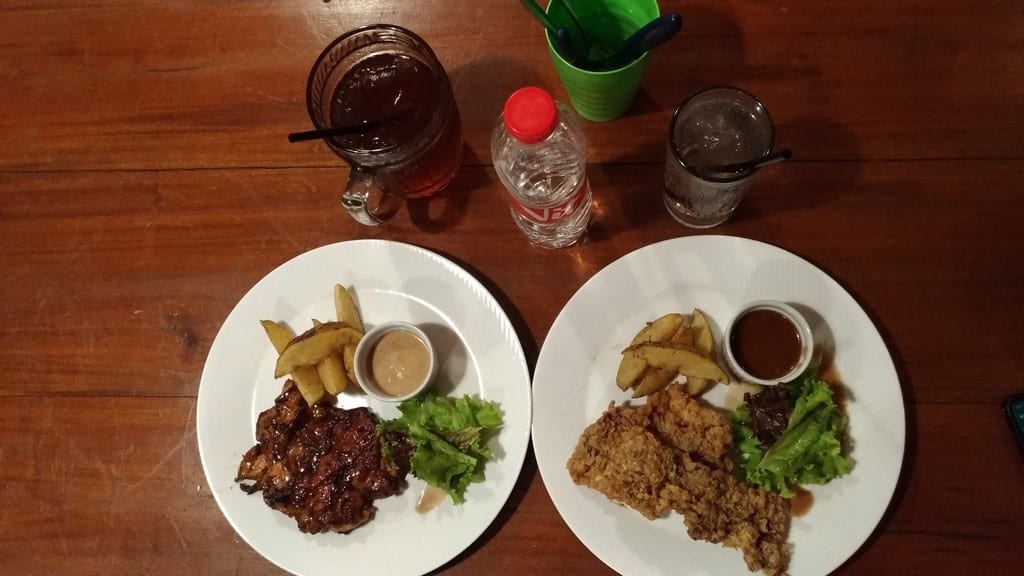 Now the review for the jumbo crispy beef steak. In the crispy beef steak dish, there are potatoes as carbohydrates, lettuce vegetables, and two slices of crispy beef steak, complete with sauce. I chose the smokey barbecue sauce. The taste for the crispy beef is soft, savory, crunchy, and when combined with the barbeque sauce, it adds a sweet and slightly sour taste to the mouth. Yes, it was delicious, but unfortunately, this food came in a small portion and minimal vegetables so that the plate seems "light." If the serving is added with a mixed salad and a couple more slices of potato, it will definitely be more enjoyable and certainly more satisfying. After we finished eating our food, we rushed home. By the way, the payment was at the beginning when ordering food, and we paid IDR 73,000. Quite affordable, right!
So in conclusion, this Tokopakdio Yogyakarta restaurant is worth it for you to try because it really tastes special. This restaurant is also suitable to visit whenever you want to eat well, but only has a mediocre budget. It's just that the drawback is that this restaurant is quite small, so if it's crowded, it's not comfortable. And then the portion of the food is not enough, aka less satisfying. If you buy one, it's not enough, but if you buy two, it's too much. At last, the potato slices and other condiments should be increased so that the portion is just right. I think if the price went up a bit for a few slices of potato, it shouldn't be a problem.