Yogyakarta always presents an unforgettable place and atmosphere for both domestic and foreign tourists. There are so many attractions that are still natural and only a few know about them. This time I went to Samas Beach, a beach located west of Parangtritis Beach, precisely in Srigading Village, Sanden District, Bantul. But before that, I had to fill my stomach first in a restaurant close to the beach. The restaurant is called Bebek Goreng Umar Plenteng which is famous for its delicious duck and fried entok (Muscovy).
Indahnya Pantai Samas dan Nikmatnya Bebek Goreng Umar Plenteng
Around the beach, actually, there are a lot of duck restaurants that compete with Mr. Umar Plenteng's fried duck stall, but what distinguishes it from other stalls is that the size of the duck and fried muscovy is quite large, one portion of fried duck can be shared with two people, besides its size, this duck restaurant has a fairly cheap price, it's cheap because one piece of duck breast/thigh costs only 25,000 rupiahs.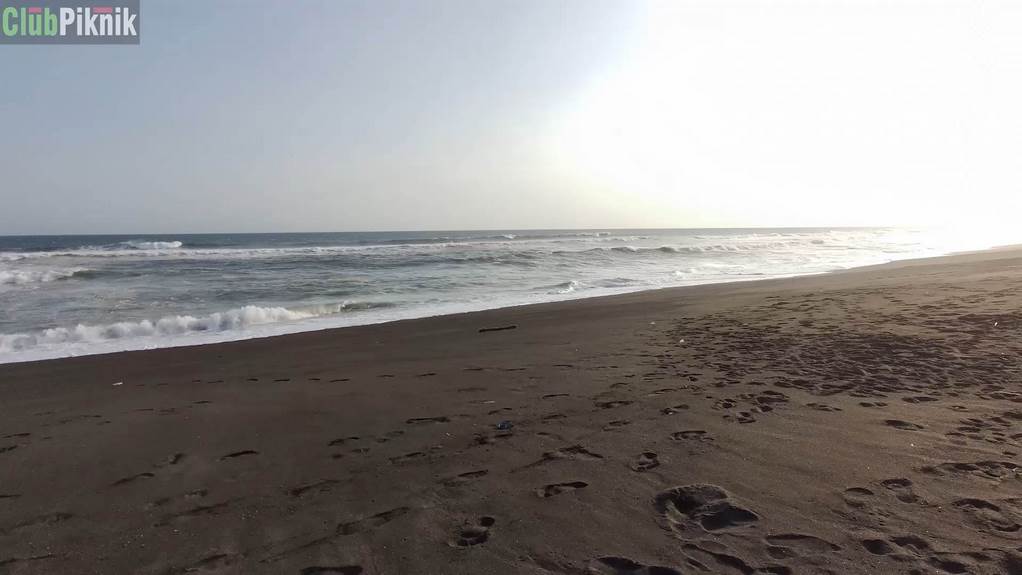 This time, I ordered two pieces of duck breast meat and two pieces of muscovy breast meat with three servings of white rice and iced tea as a drink. There is no doubt about the taste, both in terms of texture and in terms of flavor. The texture of the duck meat is soft, and the taste is savory to the bone. Meanwhile, muscovy meat is not inferior to duck meat, as it has thicker meat and more fat content. They serve fried duck and muscovy complete with sambal (chili paste) and lalapan (fresh vegetables), consist of basil leaves and fresh cucumber, while the sambal has come with two types: sambal bawang (garlic chili paste) and sambal terasi (shrimp chili paste).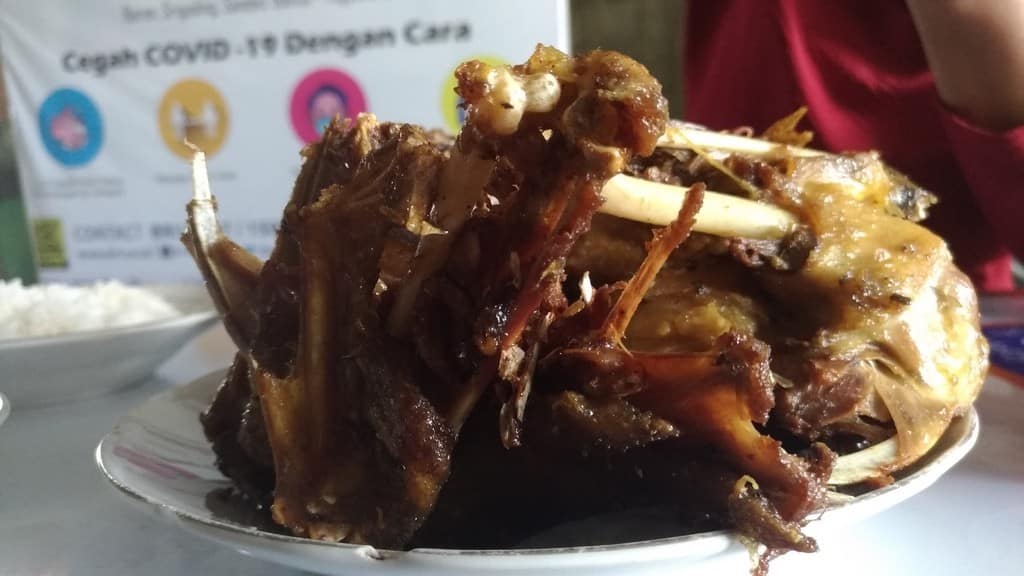 For the sambal, for those who don't like spicy, never taste the sambal bawang, because the taste is so spicy that can make your stomach burn. It's recommended, however, to take the sambal terasi which is served cooked and mixed with tomatoes and shrimp paste so that the level of spiciness is far below the level of sambal bawang. For the menu, they provide duck, muscovy, and kampong chicken (the famous free-range, village chicken breed in Indonesia) complete with innards. If you want to order at a large party, they also always provide ingkung (a whole chicken/duck) packages. Mr. Umar Plenteng's fried duck restaurant opens at 10.00 AM and closes at 08.00 PM or until it runs out. This stall is never empty and can be crowded during the holiday season. Bebek Goreng Umar Plenteng is located at Jalan Baran, Srigading Village, Sanden Bantul District, during COVID-19 this shop implemented a fairly strict health protocol, from the availability of handwashing facilities to providing hand sanitizer on every table. So it's pretty safe.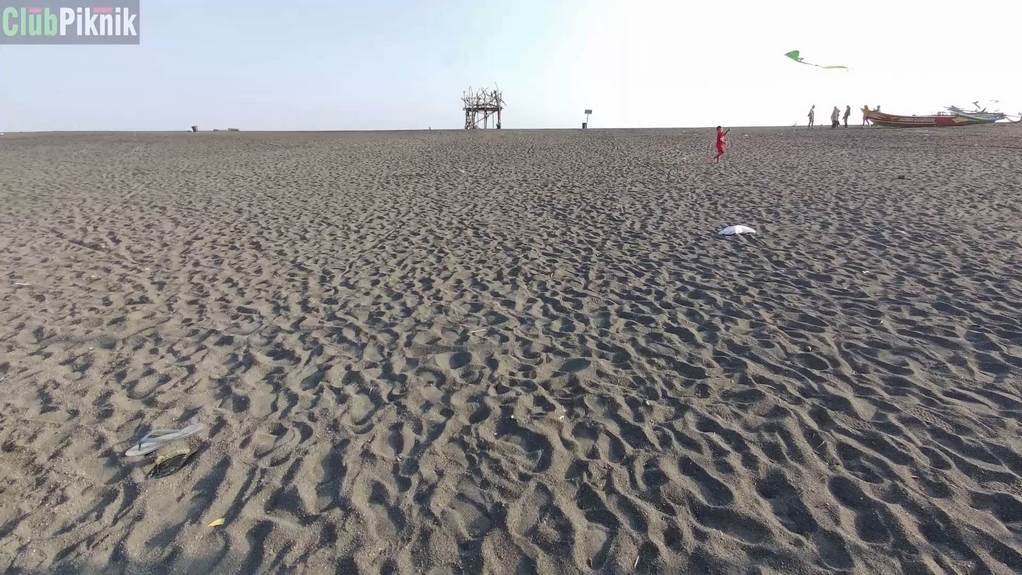 After finish eating duck, I then continued my journey to Samas Beach. FYI, Samas Beach is still in the same location as Depok Beach, Parangtritis Beach, and Goa Cemara Beach. In contrast to Parangtritis Beach, which is usually crowded with tourists, Samas Beach is less visited by tourists because of the steep shoreline. Here, tourists are advised not to swim and play with seawater in the beach area because it is very dangerous. Besides the steep shoreline, the waves at Samas Beach are also quite strong. However, for the sightseeing purpose and for enjoying the scenery, this beach is worth visiting. Here you can feel the breezy wind and the vast expanse of beach sand. This beach also has a unique attraction that cannot be found anywhere else. It's the beauty of the river delta and its lagoon, which is called Laguna Pengklik. There are also several boats docked on the beach.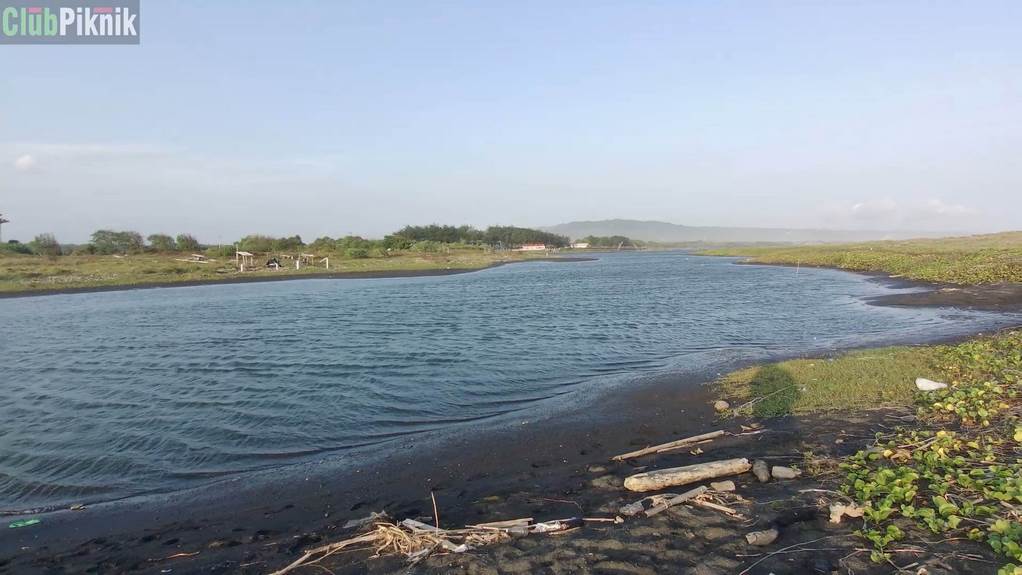 This beach opens at 07.00 AM and closes at 05.00 PM, not that you can't go here, but usually, the stalls and the parking lots are closed. Around the beach, there are several locals who sell agricultural products, including shrimp paste, shallots, chilies, anchovies, and many more. The entrance ticket to this beach is IDR 4000 for one person, while the parking fee is only IDR 3000 for motorbikes and IDR 5000 for cars. Pretty cheap isn't it? Even though it's still a pandemic, you can still travel. But, you have to be cautious, avoid crowds, and take care of your health. As always, stay positive, stay happy, and stay healthy!