Hello friend, how is your day? Excellent as always? If you have a plan to go on vacation in Yogyakarta, what would you do at night? Are you going to spend your time shopping at the mall, sleeping in a hotel, or just spending time in Malioboro Area? Yesterday when I was staying in Jogja, I finally felt the atmosphere in Malioboro Area at night. Exactly at 7:00 p.m., I immediately rushed the streets, walking along the pedestrian-only sidewalk from Malioboro until Alun-Alun Utara (translated as North City Square). And do you know how long Malioboro Street is? Yups almost 4 km, and I didn't feel tired because there are so many people selling various souvenirs, ranging from batik shorts, batik dresses, key chains, and rows of shops that are guaranteed to make you crazy. Especially nowadays, the place is more comfortable guys, because around the stands, the local government provides seating for people just for hanging out or dating.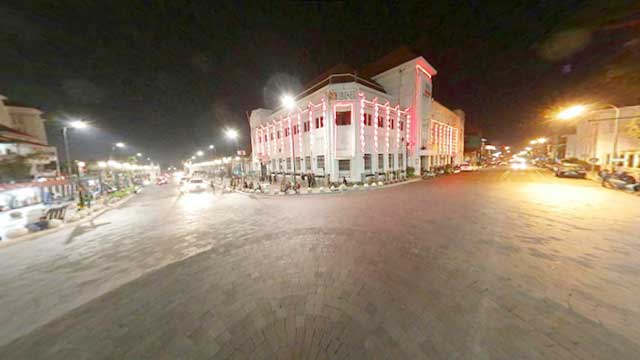 I went there on Friday guys when the school was on holiday season. It was very crowded so that you could imagine that the road was jammed, therefore making it hard to breathe, especially if you ride a motorcycle. Luckily, I was not in a rush and could enjoy the night without problems. In Malioboro, you just can't be hungry guys because there are so many snacks starting from fried chicken, fried catfish, fried duck, chicken satay, soto, and many more. If you want to look for traditional food, there is also gudeg, nasi liwet, nasi oseng, etc. Besides that, nowadays, Malioboro is Instagramable guys, there are lots of photo spots on every corner. Well, for those of you who like to take photos, I can guarantee that you will have sweet memories in this city, especially if your loved ones accompany you.
After that, I passed Vredeburg Fort and stopped by for photos --only from outside guys, since I couldn't get in because the museum was closed. This place is enough to represent the beauty of the city of Jogja with typical Dutch heritage buildings that are deliberately preserved from its classical elements. Then at the end of Jalan Malioboro, there was a group of young men who were playing musical instruments plus the strains of gamelan that broadcasted through a megaphone that was stuck on trees a few meters away. It was very solemn despite the sound of vehicles passing by. Nevertheless, the music was able to cure my fatigue. By the way, locals called this hangout spot "Nol Kilometer" or literary translated into "zero kilometers."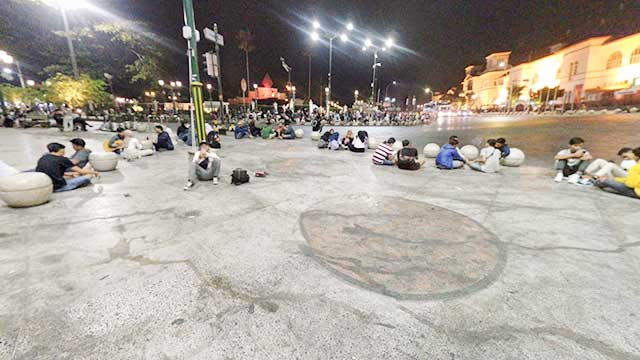 Once I satisfied with activities at Nol Kilometer, I then headed to the Alun-Alun Utara. Along the road to the square, there are buildings from the Dutch, starting from BNI bank, post office, and many more. After reaching North City Square, there are various places to hang out. One of them is a place for drinking coffee that is unique because they provide coffee with a different presentation. They served the coffee with an upside-down glass. So, under the glass, they put a small plate to support the glass, then the coffee that is ready to be brewed in the glass, then turned upside down. So you can enjoy it by drinking little by little from the small plate, not directly from the glass. I'm sure in your place there won't be such a drink. The name of the coffee shop is Kopi Walik (or translated as Reversed Coffee). In this area, you will find many angkringan (i.e., a pushcart that sells a variety of foods and beverages) along the lines, and it's perfect for hanging out while enjoying the night atmosphere and the gentle breeze.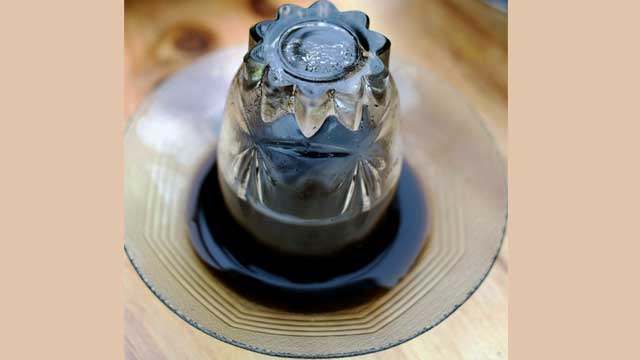 In the end, in my last destination, I visited a shop that only provided wedang bajigur. Honestly, this is the first time I drank such a satisfying beverage. In my opinion, this drink is a mixture of wedang ronde (ginger drink) and wedang asle (a typical Surakarta drink). The wedang ronde is a ginger drink filled with mochi, peanuts, and kolang-kaling (Arenga pinnata), while wedang asle is a sweet coconut milk drink filled with bread and jelly. Hence, this wedang bajigur is a drink with sweet coconut milk combined with ginger and stuffed with white bread, gelatin, tape (fermented cassava), and kolang-kaling (Arenga pinnata).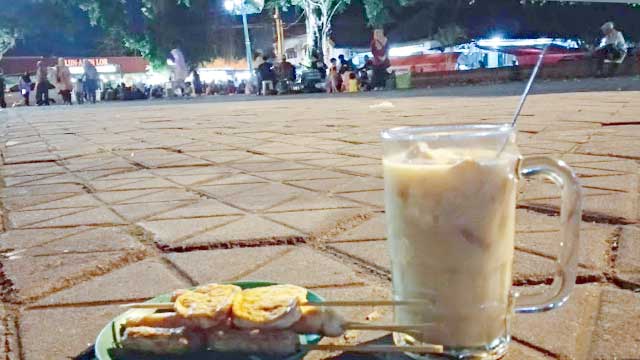 Aside from it tasted so good, it also warmth my body and made me feel recharged. It's a must-try! This drink is highly recommended for unique drink lovers! After enjoying wedang bajigur, then I went back to the hotel with a motorbike pedicab. Hopefully, this article inspires you, happy holidays, and see you soon!
This article is sponsored by Tripsona, the best tour operator in Yogyakarta.