Yogyakarta is a top destination for many tourists, both domestic and foreign. It's no wonder that in this city there are many varieties of snacks, ranging from cheap to expensive. Based on the recommendation of the Yogyakarta tour package provider, this time I explored food in the corner of Yogyakarta. It has a predominantly sweet taste from brown sugar, a spicy and savory combination of peanuts and chilies, and other secret spices combined into a delicate peanut sauce. The sauce then mixed with vermicelli, ketupat (rice cake), fried tofu, sprouts, and eggs. Do you know the dish name? Yep, it is the infamous Ketopak Jakarta. Usually, this food is often found during the day, but this time, I found it at night around 07.00 PM. This local Jakarta food is in great demand by the Yogyakarta community.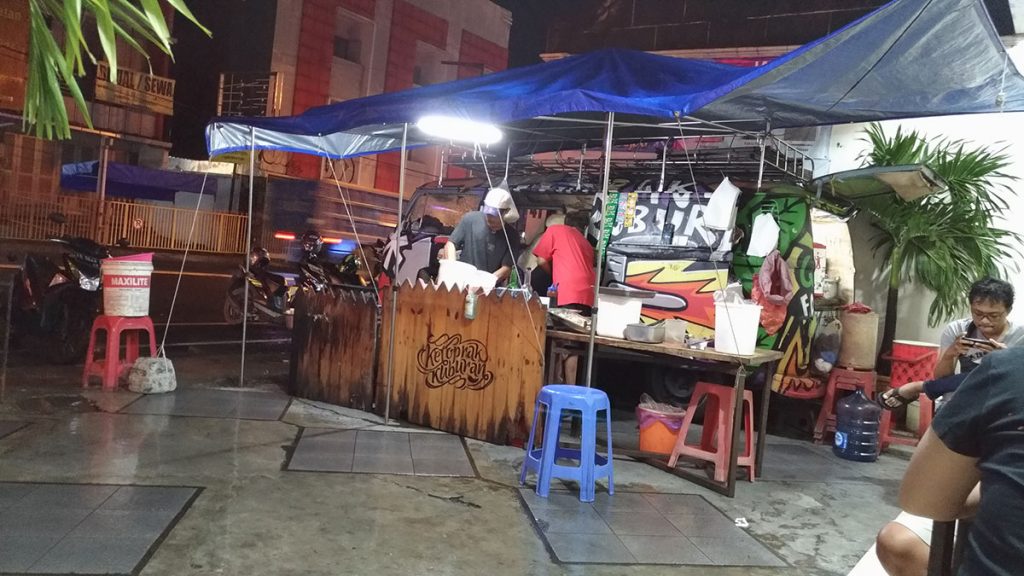 The location is strategic, and there are various authentic ornaments with the characteristics of a VW Kombi car as a substitute for a stall. There is also a blue tent that covers to protect sellers and buyers from the rain. Still, not infrequently, if the weather is clear, only tables and chairs arranged under the sky without any cover, the atmosphere becomes even more serene with the beautiful shining stars. Ketoprak Kuburan (which means cemetery) is located at Jl. HOS Cokroaminoto No.43a, Pakuncen, Wirobrajan, Yogyakarta. Why is it called Ketoprak Kuburan? In the past, they sold their food in front of the Kuncen Cemetery, not far from the current location. Sounds scary right?
In this section, I will discuss the taste of the dish. The dish is just like any other ketoprak with a combination of rice cake, tofu, bean sprouts, vermicelli, and eggs and covered with peanut sauce. But what distinguishes it from other ketoprak is that they grind the peanuts until it becomes so soft that the taste of raw onions is almost not present at all. The cooks' vigor of manually grinding peanut sauce with mortar is also a unique attraction because as soon as visitors come, they will be presented with a spectacle of a row of cooks scraping the sauce. They also make these ingredients always fresh, coupled with hot-fried tofu, a sign that it was freshly cooked from the frying pan, which caused my appetite to increase by one level.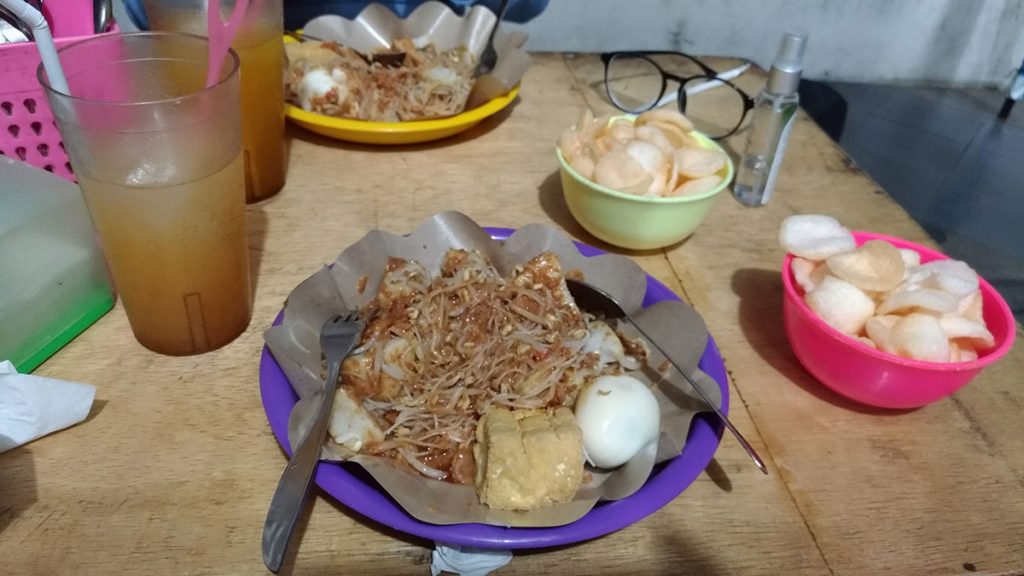 This place is always crowded with buyers. Even from the beginning, many have queued up because it tastes so good and budget-friendly. I also had to queue for a seat first, because it happened that rain was falling to enliven the shop. They only provided a few tents at that time, and they chose at the edge of the shop to put out chairs and tables. After I got a seat, I had to wait for the food to come. In about 10-15 minutes, I finally ate the ketoprak which was really delicious and spicy. Anyway, for those who like it spicy, it doesn't matter how much chili that you want since they will happily provide it. When I asked for 7 chilies, it is said that an odd number of chilies will taste even spicier, and sure enough, it is. I can usually beat 10 chilies, but this time I gave up with 7 chilies. I think it's because they use whole cayenne pepper. Indeed the spiciness makes my sweat pour out like hell. Still, it doesn't reduce the peanut sauce's taste, which is still predominantly sweet and savory.
This food stall is open from 06.00 PM until it sold out, but if it doesn't sell out, it will be open until 11.00 PM. Go Food and Grab Food services are available, so if you are lazy to wait a long time at the location, you can order via the application at an affordable price. One plate of this ketoprak is priced at only IDR 14,000, cheap enough right? So, what are you waiting for? If you want to feel the sensation, please come to the Ketoprak Kuburan on Jalan HOS Cokroaminoto, Wirobrajan, more precisely, at the Daikin shop, Wirobrajan.