Hello guys, this time I want to discuss tourism in Bantul Regency, Yogyakarta, especially in Dlingo District. Dlingo District is not far away from Imogiri District, where we often know Imogiri as the place of the tombs of kings from the era of Islamic Mataram till the period of the Kingdom of Yogyakarta. Dlingo District is famous for its forest with fresh, clean, and beautiful air. Furthermore, the beautiful scenery in this place is very mesmerizing. Also, residents living in Dlingo District are quite friendly. So, what are the attractions in this Dlingo area? Let's discuss it one by one. Who knows, it might be beneficial as a reference choice for those who want to visit this famous "student city."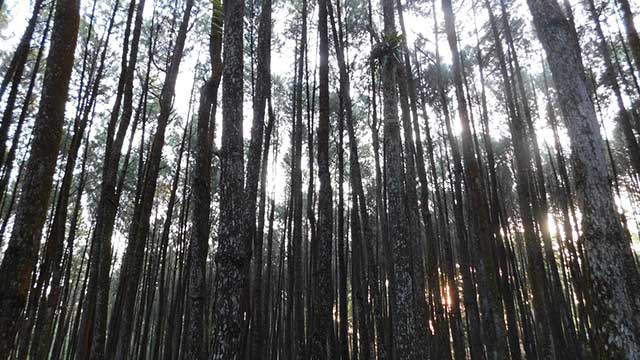 Mangunan Pine Forest
As the name suggests, pine forest certainly has tons of pine trees in the area. Located in Sudimoro Hamlet, Muntuk Village, Dlingo District, Bantul Regency, this forest initially just a place that was left alone. However, after time passed, the woods covering an area of ​​approximately 500 hectares then switched functions. RPH Mangunan initiated an idea to manage the Mangunan Pine Forest as a tourist attraction for foreign and domestic tourists. The place is beautiful, clean, fresh, and suitable for relieving stress due to pressures in the workplace. As far as our eyes can see, we will see extraordinary views because of the combination of light peeking between the trees. Then, when we explore deeper in this place, there are many spots for rest, such as seats made of rattan and hammocks, as well as spots to take pictures. Last but not least, many young couples choose this place to be the pre-wedding place, using dense pine forests as the background. Fees in Mangunan Pine Forest are 5,000 rupiahs for the entrance fee, 2,000 rupiahs for the motorbike parking fee, and 3,000 rupiahs for the car parking fee. Cheap enough, right?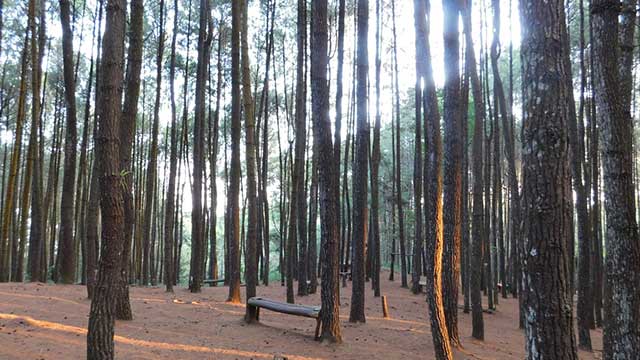 Mangunan Fruit Garden
The Mangunan Fruit Garden is not too far from the Mangunan Pine Forest, only a few hundred meters away then you are there. So, what is in this garden? In a garden with an area of ​​approximately 23 hectares with an altitude of 150-200 meters above sea level, you will find areas that are quite slick to spoil your eyes. In this place, there are around 1500 durian trees, 950 mango trees, 220 orange trees, and many more fruit trees that grow around this orchard. The site with a nickname of "the country above the cloud" is one of the tourist objects that are very famous because of its unique and exotic natural beauty. When we are in this site, we are so close to the clouds that are dancing to show the beauty that surrounds the Sewu Mountains. Especially if you come to the place in the morning, you will see the golden rays of the sun that are smiling to welcome you. Entrance ticket in this attraction is not expensive, only 5,000 rupiahs, and parking is around 2,000 - 5,000 rupiahs.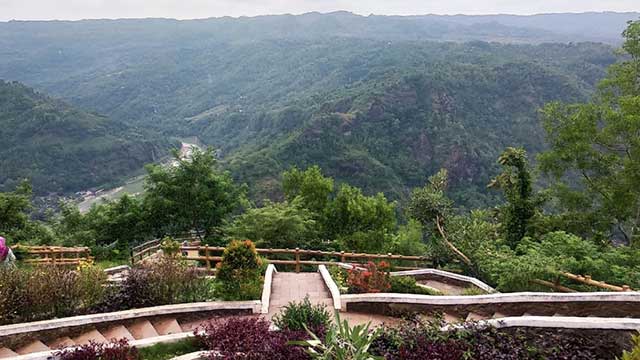 Becici Peak
Not much different from previous places, namely Mangunan Pine Forest and Mangunan Fruit Garden. This place is equally beautiful of earlier places because in Puncak Becici you will meet a stunning panorama, where you will see the city of Yogyakarta from the top of the hill, Mount Merbabu and Semeru which are magnificently displayed, and a line of South Beach that looks charming. This site also offers thousands of pine trees so that you would feel the serene atmosphere in a beautiful forest complete with a cool breeze. This place also presents a romantic atmosphere combined with viewing spots made on a tree that offers unparalleled comfort. The facilities in this place are quite complete. There is a mosque, a bathroom that is clean and not smelly, a gazebo to rest if you are tired, and areas to do a variety of outdoor activities.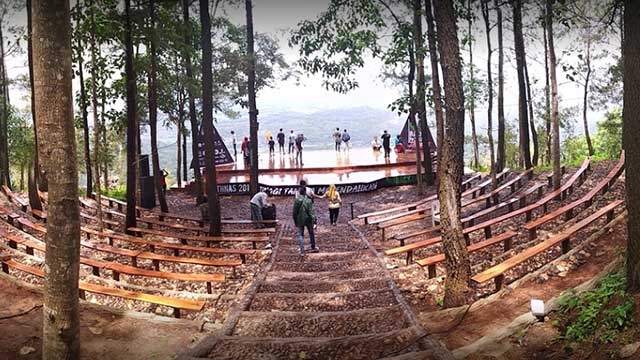 Which of the three reviews would you like to visit guys? For me, I would go to all of the places mentioned above, because it located close to one another and offers a slightly different theme. Since this place is a forest, we should keep the site clean! Please don't litter guys because there are many trashcans in the area. By the way, for those of you who don't want to bother arranging your trip, you can use our favorite tour provider in Yogyakarta, or order the Mangunan Pine Forest tour package. Also for you who want to stay overnight, near the Mangunan attractions, there are also exciting lodgings. Guaranteed your vacation would be unforgettable!