Hey guys, in this holiday season I'm going to give you information about an exciting and unique tourist attraction that will test your guts, especially for those of you who want to go to extreme places that will definitely increase your adrenaline but still enjoyable with the view of "divine paintings." This time I want to recommend a site that is not widely known by many people, namely Jomblang Cave (Goa Jomblang). Well, are you curious about what is this place like? I can guarantee that those of you who have read this blog will find more detailed information about Jomblang Cave and won't make you regret ever know about the subject.
Jomblang Cave is still in the vicinity of DIY Province, precisely in Padukuhan Jetis Wetan, Pacarejo Village, Semanu District, Gunung Kidul Regency. Indeed, Gunung Kidul is the king of tourist attractions that make many tourists addicted to going back there again because there are many cool tourist spots in Gunung Kidul, one of those is Jomblang Cave.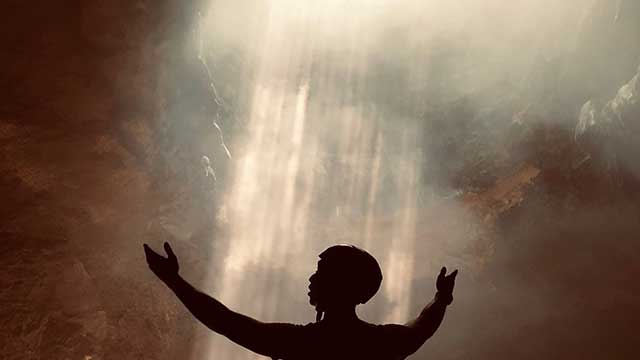 People often call Jomblang Cave as a vertical cave. Why is that? Because vertical access shaped like a well dominates the entrance to the cave. So for those of you who want to go there, get ready to test your guts! Then how do we get there? There are several ways to get inside the cave, but the most exciting way is by abseiling or rappelling. For those of you who are used to rappelling, you can descend to the cave using a rope with various paths, namely path A with about 40 meters in depth, path B with a depth of about 60 meters, and path C with a depth of about 80 meters. Yes, the distance between the lip of the cave and the base of the cave is approximately 80 meters. For those of you who are not an extreme sports lover, there is no need to worry. We can use the services of the local crew who are well trained and experienced. We will use a rope and some safety equipment that has been prepared by the team at the location to descend the cave as high as approximately 60 meters. We can also go down in pairs! Undoubtedly not only romantic but also quite tense.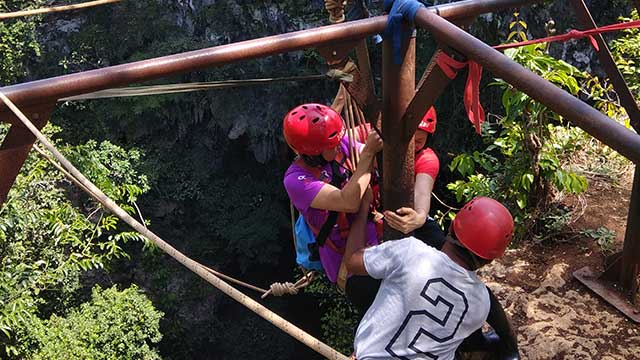 After being at the bottom of the cave, all the exhaustion of walking through the slippery and muddy walkway at the bottom of this cave will pay off. You will see the incredible natural beauty, starting from the sun's rays that emit beautiful light to warm our bodies chime with the cave's inherent natural characteristic. Then there is the sound of splashes of water in rhythm, which makes us drift in the tranquility of this cave, coupled with the presence of rocks that have existed for thousands of years perched in this cave. Furthermore, in this cave, there is a forest with bushes and large trees that live with fertility. It is called The Ancient Forest. Oh, I almost forget that you should prepare yourself to be dirty and wet, especially if you come here during the rainy season. Remember we are in a real cave adventure.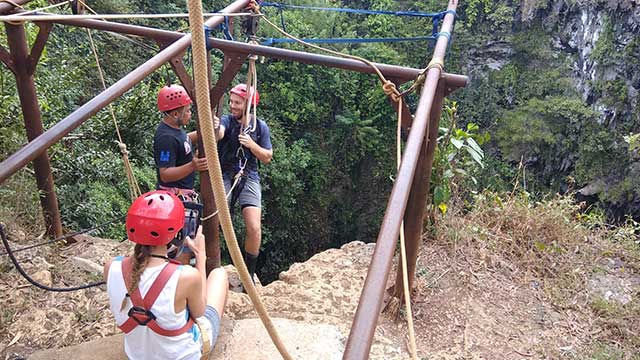 The entrance ticket for this place is actually free of charge for those of you who have caving equipment and already have qualified skills. However, you must ask permission from the Head of the Village. If you are not a professional adventurer, you can use the local operator service to help you descent to the bottom of the cave with equipment that is certainly safe and inevitably accompanied by a qualified tour guide. This service is quite expensive, which will cost you 500,000 rupiahs per person includes rent cost for a pair of boots and a helmet . However, even though it is quite costly, believe me, the price is comparable to the experience that you will get! It is worth every penny! You are guaranteed to get addicted to going back to this cave. The facilities around Jomblang Cave are quite complete, including clean toilets, gazebos, prayer rooms, and a large and comfortable parking lot.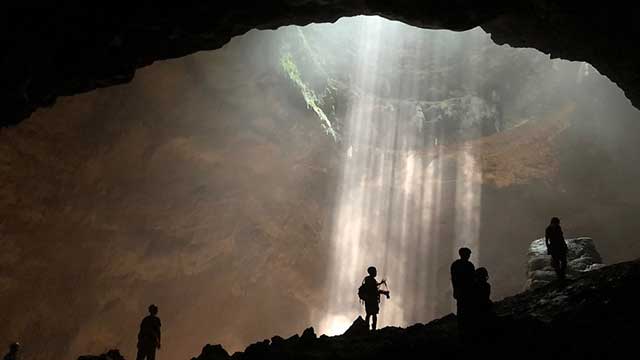 One of the disadvantages of this attraction is quite remote, and there is no reservation policy, so you have to arrive early to pick up the registration queue number. There is a quota system, so if you oversleep or late to the party, you could get rejected. Well, for those of you who don't want to bother with this nonsense, you can use my reliable travel agent in Jogja. You can also directly book the Jomblang Cave tour package at affordable prices.