This time, I want to review a café and social space that is aesthetically pleasing and comfortable for doing assignments, meetups, or just spending time because the place is homey and has gentle wind. For clues like this, does anyone know where? Yep, Ekstens Coffee and Space! Have you been here?
Ekstens Coffee & Space Yogyakarta: Tempat Nongkrong yang Nyaman
Ekstens Coffee and Space is at Jalan Raya Janti No 486, Modalan, Banguntapan, Bantul, Yogyakarta. From the outside, this place looks small, but when you enter the courtyard, the place is quite spacious. From the front, it looks like a classic building. It then presents you with a Joglo house with a traditional Javanese interior arrangement. However, when you enter the cafe area, the interior arrangement becomes modern minimalist. There are indoor and outdoor spaces in this coffee shop with various types of facilities. For indoor, there are AC rooms and non-AC rooms complete with wi-fi with fast enough internet access and electrical plugs to support work activities. For outdoor ones, several trees are large enough to make the atmosphere leafy, calm, and shady, especially with the music being turned on. This kind of atmosphere keeps the mood always good so that you can complete your office works or college assignments on time.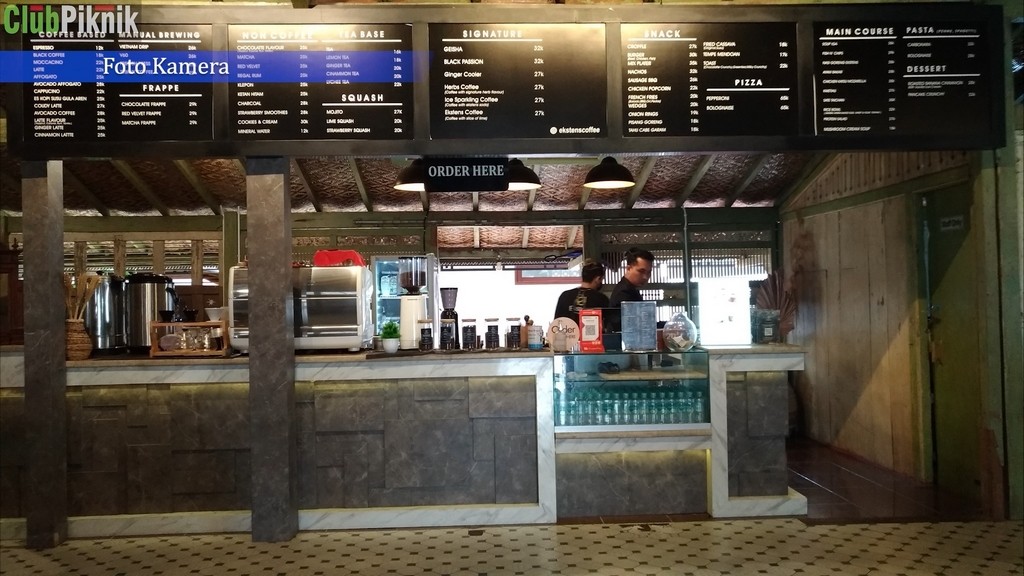 The food menu here is quite varied, ranging from snacks such as onion rings, french fries, mendoan (fried tempeh), fried bananas, and many more. For the main course, there is a rice bowl with various side dishes such as chicken teriyaki, sweet and sour, salted egg, and salad dressing. Also, chicken katsu mozzarella, fish and chips, spaghetti, salad, and pizza are available. In the beverages menu, they have coffee and non-coffee menus such as regal rum, klepon (vanilla grass flavor, palm sugar, and coconut syrup), matcha, lychee tea, lemon squash, chocolate frappe, and many more. Hence, for those of you who can't drink coffee, it's safe. For the signature dish, the drinks are ginger cooler, herb coffee, ice sparkling coffee, and Ekstens coffee.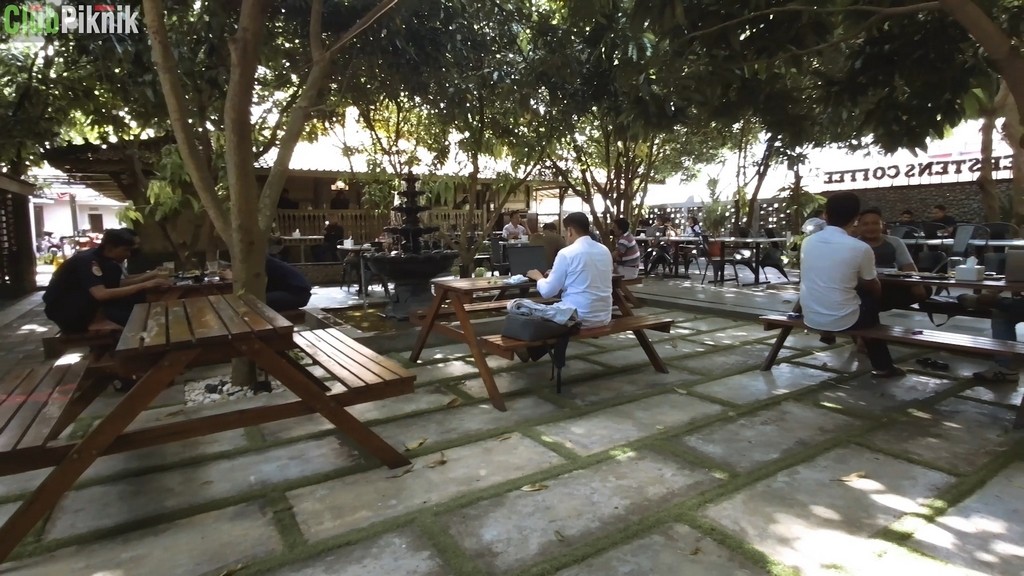 Yesterday we ordered fish and chips, chicken katsu mozzarella, palm sugar coffee milk, and chocolate frappe. We will review the food first. The fish and chips are served on one small plate which contains a fish fillet wrapped in breadcrumbs and then deep-fried, potato wedges, a slice of lemon, plus mayo sauce with Ekstens style seasoning. For the taste, the fish is crispy on the outside, soft on the inside, but the fish is thin so it looks dry. The crust was tasty and crunchy, but the fish fillet tasted bland. The potatoes are also too thin, so they feel dry and tough when pierced with a fork. And then, the plate used is too small, so it limits movement when cutting food. However, when I add the sliced fish with potatoes and then dipped in fresh mayonnaise sauce, the taste is quite balanced, and everything blends fine. Well, that's just okay and not extraordinary.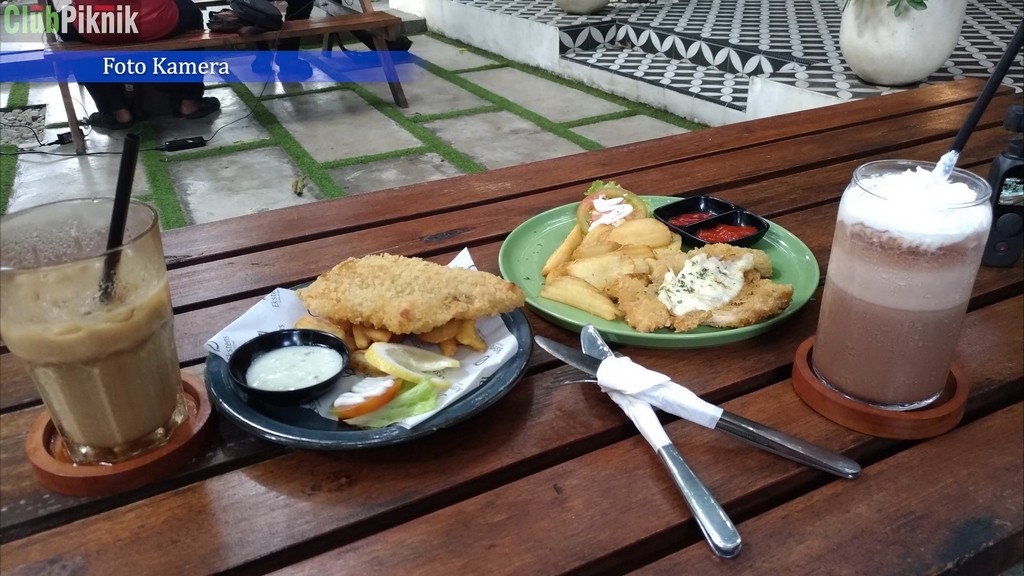 The chicken katsu mozzarella looks the same as the fish and chips, but the difference is that the protein is chicken fillet and mozzarella cheese is added on top of it, both deep-fried with breadcrumbs, and accompanied by potato wedges. The taste is also not much different from the previous food. It is savory on the crust, but the chicken fillet is bland and dry, so when we split it, it is a bit tough. When combined with chili sauce and tomato sauce and a little vegetable salad, it adds a fresh taste to the mouth. Yes, the food we tried was not impressive, aka just average, like most coffee shops. Indeed, this place is not suitable for eating the main course, unfortunately, we did not order snacks at this place.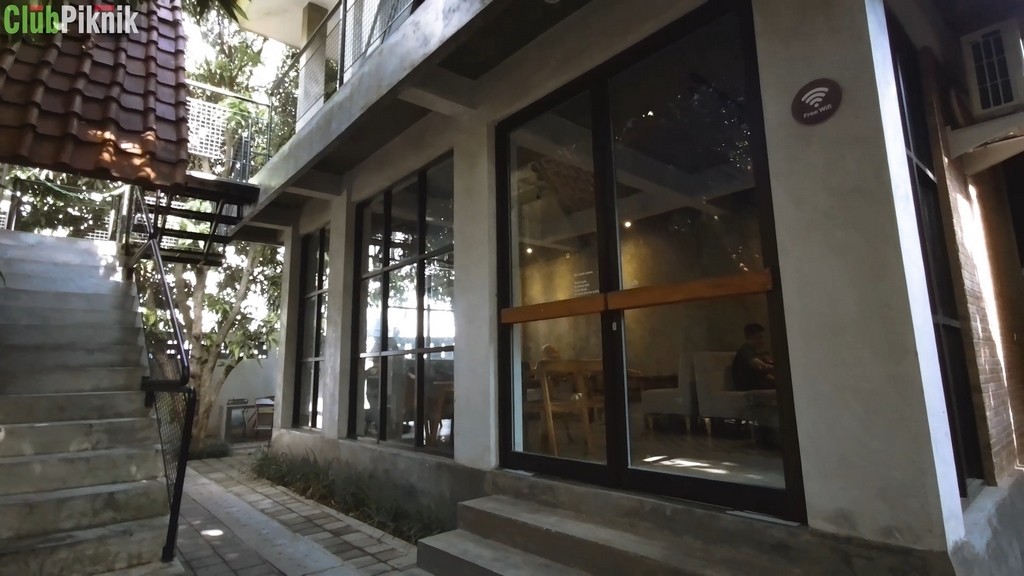 As for the drink, the palm sugar milk coffee is delicious as the taste is a balance between bitter, savory, and sweet. The chocolate frappe is also delicious. The barista combines sweet chocolate with whipped cream, which is not too sweet to make a fresh and slightly sour combination when you drink it. So the experience we get from the drink vs the food is just like heaven and earth. The drinks are delicious and above the average coffee shops, but the food menu is so-so. Prices vary and are competitive, not too expensive and not too cheap either since the four menus that we ordered cost IDR 118,000. For that price, we got pretty good foods and drinks plus a comfortable and calming place. I think it's worth it and the place is definitely worth visiting! For information, Ekstens Coffee and Space is open every day from 08.00 AM to 12.00 AM, so you can hang out until midnight. Oh, by the way, if you're lucky when you come here, you can enjoy the live music.